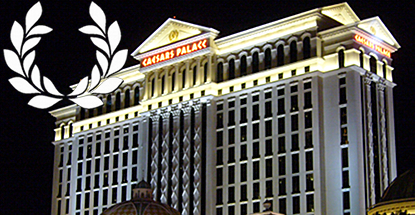 Casino operator Caesars Entertainment managed to lose another billion dollars in Q4, despite modest revenue gains.
Revenue in the three months ending Dec. 31 topped $2.1b, up 6% from the same period the previous year. Gaming revenue nudged up 1.6% to $1.37b, room revenue rose 7% and those hard-partying 20-somethings pushed food and beverage up 9% to $378m.
Net losses for the quarter came to $1b; better than the $1.75b loss a year ago, but unless you're Sheldon Adelson, a billion is still a billion.
For the year as a whole, revenue was up 3.6% to $8.5b and losses were slightly less nausea inducing, improving 6% to a mere $2.77b. Caesars shares rose 4% on the day only to fall nearly 8% in after-hours trading.
Caesars' digital operations were credited with giving revenues a $156m shot in the arm this quarter while brick and mortar operations were hit and miss, Outgoing Caesars CEO Gary Loveman claimed that a "nearly unprecedented poor hold" at Caesars Palace in Las Vegas took a $60m bite out of earnings. To which CFO Eric Hession added: "Sadly, not too many people had to use casino credit."
Results were aided by the August opening of Horseshoe Casino Baltimore, which has yet to unseat Maryland Live! as market leader but has posted decent numbers. The year also saw the launches in Las Vegas of the Cromwell and the High Roller observation wheel, the latter seeing daily visitation rise 10% sequentially to around 5k. Caesars' rejigging of its Atlantic City properties left the surviving operations "marginally profitable" in Q4.
Loveman, who is exiting the CEO position on June 30 in favor of former Hertz Global Holdings CEO Mark Frissora, said he had no way of proving the emerging theory that the recent plunge in gas prices had given a boost to the regional casino industry. Loveman acknowledged that gas prices might play a role but was more intrigued by the idea that the industry was witnessing "the stabilization of the supply dynamics."
Asked about Caesars' overall performance for tables vs. slots, Loveman took a shot at slots designers, expressing concern that that their product is "antiquated as a category." Loveman also suggested slots designers need to "provide a foreign factor."
Continuing that theme, Loveman praised the Caesars Interactive Entertainment team for their ability to "innovate remarkably rapidly." Loveman suggested there was a "tremendous opportunity" for someone to earn a similar reputation in the brick-and-mortar slots environment.
Looking ahead, Caesars intends to spend $300m this year on improving CEOC's Vegas properties, including expanding Caesars Palace's room capacity. Loveman also said Caesars was "making good progress" on the design phase of its integrated resort joint venture in South Korea and would begin the permitting process "in the coming months."
Caesars' main unit Caesars Entertainment Operating Co. (CEOC) – which holds the lion's share ($18.4b) of Caesars' overall $22.8b debt – is currently embroiled in Chapter 11 bankruptcy proceedings in Illinois. Loveman swatted away analysts' questions regarding the highly contentious bankruptcy process but claimed CEOC's restructuring plan would shave annual interest payments to $450m from last year's $1.7b.