Casino operator Macau Legend Development Ltd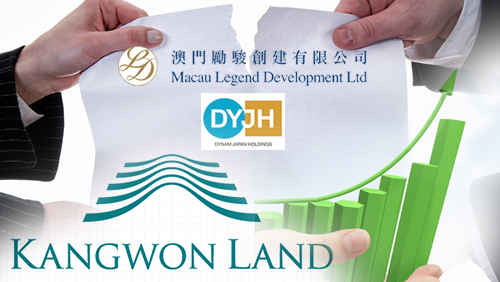 's potential collaboration with pachinko operator Dynam Japan Holdings has fizzled out after the two companies couldn't agree on "opportunities for business operations" before the pre-imposed memorandum expired earlier this week.
In a filing with the Hong Kong Stock Exchange, Macau Legend said that despite yielding no positive results from the expired MoU, the two sides remain on positive terms with each other and aren't shutting the door on a possible partnership down the road.
The MoU included a plan for Dynam to establish and operate a minimum of 100 pachinko machines and other electronic games at Macau Legend's Macau Fisherman's Wharf project. In addition, the two companies were poised to do cross-marketing promotions, including Dynam promoting Macau Legend's casinos to its customers in both Japan and South Korea.
The long, drawn-out negotiations began when the two firms entered into a non-binding memorandum of understanding in August 2013, which was extended twice—first in February 2014 and then again on August 2014—before getting called off on Monday.
Despite not meeting the deadline to hatch out a concrete plan of partnership, it's still possible that the two companies can re-ignite talks on a working relationship in the future. Dynam Holdings, after all, already has close to $85 million investment in Macau Legend.
KANGWON LAND PROFIT LEAPS 70%
Over in South Korea, Kangwon Land Inc, the country's only casino operator that caters to local residents, made steady gains in their net profit from the fourth quarter of 2014. According to the company, net profit from that period surged to KRW47.4 billion ($43 million), a 69.8% improvement compared to its numbers from a year ago.
The dramatic improvement was largely attributed to the casino generating a 12.3% improvement in gross gaming revenue, which amounted to KRW351.8 billion ($317.3 million) in the last three months of the year. Gaming accounted for 94.2% of the company's total revenue of KRW373.6 billion ($337 million).
Likewise, VIP revenue increased by 34.1% while operating profit also saw significant gains, rising 188% year-on-year to KRW119.2 billion ($107.5 million).