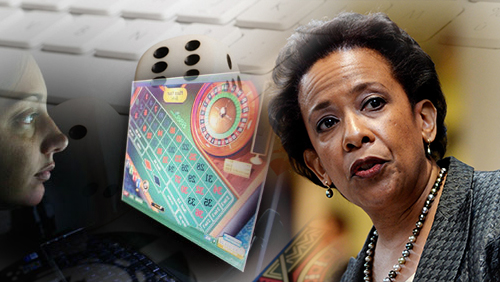 Loretta Lynch, President Barack Obama's nominee for the next US attorney general, has said she likely wouldn't alter the Justice Department's 2011 opinion that the 1961 Wire Act only applies to sports betting.
During a confirmation hearing before the Senate Judiciary last month, she was asked by Sen. Lindsey Graham, who supports the Sheldon Adelson-backed Restoration of America's Wire Act (RAWA), whether she was familiar with the 2011 DOJ opinion that reinterpreted the Interstate Wire Act of 1961—the federal law that restricts the transmission of wagering information. Lynch said that she was familiar with the opinion but hadn't studied it in detail.
In a follow-up written response to the Senate Judiciary Committee, Lynch said that, if confirmed, she would review the 2011 memo from the DOJ's Office of Legal Counsel (OLC).
"It is my understanding, however, that OLC opinions are rarely reconsidered. Unless in the course of my review I conclude that OLC's interpretation of the Wire Act is unreasonable, I do not intend to take any action to suspend or revoke the opinion. I would, of course, welcome the opportunity to work with you and other Members of Congress to address concerns about online gambling through legislation," Lynch added.
She was also asked if she thinks it is appropriate for OLC "to effectively open the door for the states to offer Internet gaming without involvement of the Congress, the public, law enforcement, and state and local officials?"
Lynch answered, "OLC exercises the Attorney General's authority to provide the President and executive agencies with advice on questions of law. Because OLC helps the President fulfill his constitutional obligation to take care that the law be faithfully executed, it is my understanding that the Office strives to provide an objective assessment of the law using traditional tools of statutory interpretation. In seeking to interpret federal law, the office wouldn't normally seek the views of Congress, state officials, law enforcement or the public."
President Obama's pick to serve as the next attorney general is having a hard time finding Republican supporters. She needs four Republicans to support her nomination, but it's unclear where those votes will come from.
Judiciary Committee Chairman Chuck Grassley has already delayed the committee vote to Feb. 26.
"What we're trying to do is get an indication from her of the independence that she's going to have from the White House," Grassley told The Hill. "I think [Attorney General Eric] Holder is running the Justice Department like a wing of the White House. That's not right, and I want her to show us that she can be independent."