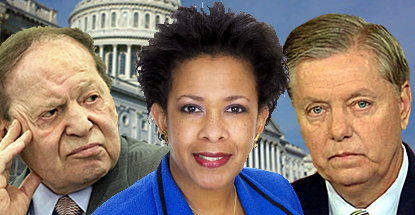 Loretta Lynch (pictured center), President Barack Obama's proposed nominee for US Attorney General, was quizzed about her views on online gambling during a confirmation hearing before the Senate Judiciary Committee on Wednesday.
Sen. Lindsey Graham (R-SC), who sponsored the Sheldon Adelson-supported Restoration of America's Wire Act, asked Lynch whether she was familiar with the 2011 Department of Justice opinion that the 1961 Wire Act referred only to sports betting. Lynch, who is looking to replace outgoing AG Eric Holder, said she was familiar with the opinion but hadn't studied it in detail.
Graham (pictured, on the right) then unleashed one of the anti-online gambling crowd's favorite mythical hobgoblins, asking Lynch whether she agreed with the idea that "one of the best ways for a terrorist organization to enrich themselves" is via online gambling. Lynch responded by saying terrorists will use whatever means at their disposal. Undeterred, Graham promised to send Lynch his source material, which likely consists of a series of Rorschach ink blots and an audio book of Grimm's Fairy Tales read by Dick Cheney.
Meanwhile, Adelson (pictured, on the left) participated in an informal summit with GOP members of the House Judiciary Committee earlier this month. It's not known whether Adelson's lobbyists or the Committee members initiated the meeting. Sources suggested the meeting was both a strategy session and an update but The Hill reported that none of the GOP reps in attendance nor their staff members were all that comfortable with questions regarding further details.
Adelson is one of the GOP's top campaign contributors but he was unable to convince his elected minions to bring RAWA up for a vote in the lame duck session of the last congress. Adelson is believed to be pushing for the new GOP-controlled Congress to make a fresh push in 2015 but the GOP is wrestling with the contradictions between Adelson's 'big ask' and their oft-stated belief in state's rights, which RAWA would effectively trample.