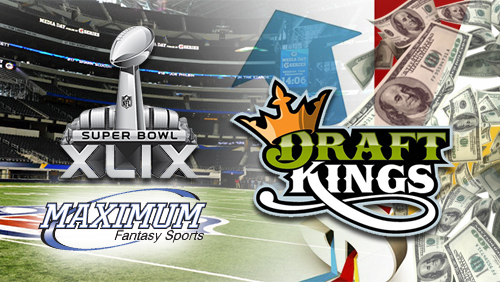 Days after FanDuel released its revenue numbers from 2014, rival DraftKings is doing the same and if their numbers are any indication, it paints a rosy picture of the future of daily fantasy sports sites.
DraftKings revealed that it had earned $40 million in revenue in 2014, a sharp increase from its 2013 numbers when it posted a meager-by-comparison $3 million in revenue. DraftKings also announced that it had taken in around $304 million in entry fees from users, another impressive increase from 2013 when it only received $45 million in entry fees.
Just like FanDuel, DraftKings' 4Q 2014 numbers were the biggest of the four quarters and largely contributed to the company's overall revenue numbers. This isn't surprising considering that its the quarter where most of America's sports leagues are in action. Whether it's the tail end of the MLB season, and the start of the NBA and NHL, the fourth quarter of every year is the prime season for daily fantasy sports.
Oh, and it's also the only quarter of the year – not counting the playoffs and the Super Bowl – where the NFL is in action. DraftKings' numbers in the 4Q of 2014 alone – $173.6 million in the entry fees – proves as much.
Despite its impressive revenue run in 2014, DraftKings still runs second to FanDuel in terms of fantasy users shares. The latter received $622 million in entry fees in 2014 with revenues of up to $57 million.
While there's still a level of competition between the two sites, Atlas venture partner Ryan Moore, who led the company's investment in DraftKings in the latter part of 2014, believes that bigger things are in store for DraftKings and the industry itself as a whole.
"The numbers don't lie," Moore told BetaBoston. "This is a much bigger market than anyone thought it would be, which is great news for both DraftKings and FanDuel."
Meanwhile, Chicago-based daily fantasy sports site Maximum Fantasy Sports doesn't have nearly the same amount of reach as FanDuel and DraftKings. But it's doing something that neither of the two sites are doing ahead of Super Bowl XLIX.
According to Gambling911, Maximum is preparing to offer square pools for the Super Bowl.
"Members can create their own pools and we will take care of generating the grids, providing the scoring and highlighting the winners," Maximum co-founder Bill Parsons told Gambling911. "There are a few different configuration options on how winners are determined. There is the score, using the last digit only. There is the reverse of the score. There is touching the square of each score, and so on."