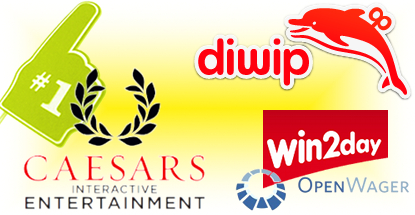 Eilers Research has released its Q4 social casino market share results, in which Caesars Interactive Entertainment (CIE) continues to enjoy its reputation as top dog. CIE held 21.2% of the social casino market, up slightly from its Q3 share. IGT's DoubleDown Casino maintained its runner-up spot with 10.5%, while former titans Zynga managed to hold on to third place with 8.4%.
Churchill Downs Inc earned fourth place with 6.6% thanks to its recent acquisition of Big Fish Games. Sony (Bash/GSN) placed fifth with 6.5%, followed by Scientific Games and Boyaa (tied with 4.7% each), Tencent (4.3%), Playstudios (2.6%) and Aristocrat (2.5%), while the nameless hordes of 'other' firms accounted for the remaining 28.2%.
DIWIP RELEASE BEST CASINO SLOTS, EXTEND IMPERUS ACQUISITION DEADLINE
Social casino studio Diwip has yet to carve out its own distinct slice of the revenue pie but it hopes its recently launched Best Casino Slots for iOS will help. Diwip is primarily known for Facebook games but is hoping to mimic Zynga's pullback from irrelevancy by putting more of an emphasis on mobile, including its previous mobile titles Slots Club and Best Casino Bingo. Diwip says an Android version of Best Casino Slots is in the pipeline.
Meanwhile, the acquisition of Diwip by Canadian firm Imperus Technologies still hasn't closed. The deadline for sealing the $100m deal was recently extended to Jan. 30 after the firms "mutually agreed" that more time was needed. However, should the two parties fail to consummate their fiscal love by the end of the month, Diwip will be entitled to a $1.5m breakup fee.
OPENWAGER AND WIN2DAY TEAM UP ON SPINTOPIA
San Francisco-headquartered developer OpenWager Inc. has teamed with Austrian online casino outfit win2day to launch Spintopia, a social casino app for Android, iOS and Facebook Canvas. The 'magical theme park' app features a variety of win2day's top-performing slots titles, with more games to be added in the future.
OpenWager CEO John Cahill told Yogonet.com that branded social casino offerings allow brick-and-mortar casinos to "keep in touch with their players and acquire new ones regardless of time and geographical location." Cahill believes branded social casino offerings "may become an especially lucrative offer to VLT (video lottery terminal) markets, where the properties do not serve the role of destinations and continuously look for ways to build a new proven line of revenue."