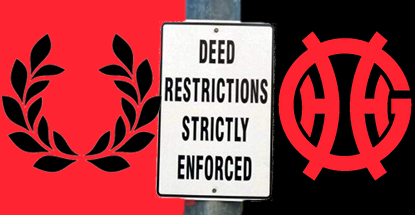 The public execution of Atlantic City's Trump Taj Mahal casino has been pushed back eight days. The financially flailing Trump Entertainment Resorts had announced that the joint would close Dec. 12 without some kind of resolution to its fight with the casino's unionized employees. The Taj closed one of its hotel towers last Monday and some employees have seen their hours reduced as the clock ticked down to Friday's original deadline. But Trump Entertainment has since said it will keep the lights on until Dec. 20 while it continues to press for labor concessions and tax breaks from state and city officials.
Meanwhile, Caesars Entertainment has confirmed that it placed deed restrictions on the sale of its Showboat property, which the company closed down at the end of August. The restriction prevents any Showboat buyer from opening a casino on the property for the next 10 years. That ban would extend to the property partnering with an online gambling site to participate in New Jersey's regulated market.
New Jersey Assemblyman Chris Brown has called the deed restrictions "contrary to the public interest" and a violation of state public policy. Brown has asked the state attorney general to eliminate such restrictions in order to ensure that "properties that are already built and designed for casino gaming are not taken off the market by anti-competitive deed restrictions."
Caesars spokeswoman Jan Jones Blackhurst told the Press of Atlantic City that Caesars' terms allow for the lifting of the restriction should the buyer be willing to "pay a casino price" for the property. Caesars has reached a tentative deal to sell Showboat to the state's Richard Stockton College for use as an Atlantic City campus with the casino floor converted to retail and academic space.
GENTING'S NEW YORK CASINO BID SCUPPERED BY DEED RESTRICTIONS?
Across the border in New York, environmentalists opposed to Genting Americas' proposed $1.5b casino in Tuxedo are attempting to use a deed restriction to scuttle the plan. Assuming New York regulators issue Genting a license, the company plans to build its 1.5m-square-foot resort on property in Sterling Forest. But environmentalists say a 16-year-old deed restriction on the 240-acre property caps its commercial development at just 140k-square-feet.
Genting has disputed this suggestion, pointing out that it addressed the issue in its casino license application. It says the restriction capped commercial development at 2.8m-square-feet, of which only 300k-square-feet has been utilized. Michael Levoff, Genting's VP of corporate communications, told the Times Herald-Record that with the state nearing a decision on who gets the coveted New York state licenses, "it is not surprising that professional advocates – many from out of state – would attempt a Hail Mary to undermine Genting's efforts to create thousands of jobs for New Yorkers."