Lee Davy sits down with Nicolas Levi, Chief Commercial Officer of the social network for the poker community, Ranking Hero, to talk about their one-year anniversary, his affiliations with Unibet and BLUFF Europe, and much more.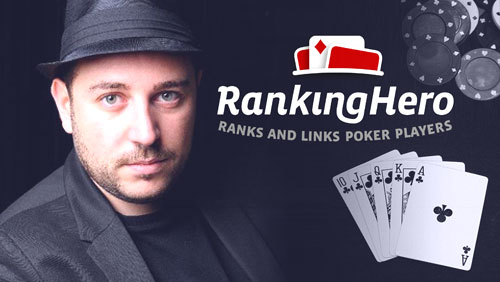 It was a year ago that a group of French poker players decided to launch Ranking Hero – the social network for the poker community. As poker players they understand the power of risk taking, and this project was a big risk.
A year later, and the company is going from strength to strength. Their 150,000 strong database of users proving that they are offering value, and they are here to stay.
I sat down with Nicolas Levi; one of the founding members of Ranking Hero who exchanged the title 'professional poker player' with 'chief commercial officer' a year ago, and has never looked back since.
This is what he had to say.
I believe you are about to jump into the lion's den. Aren't you expected to play a cash game with Viktor Blom shortly?
"I am playing in the Golden Cash Game, sponsored by Unibet. I will be playing against the likes of Viktor Blom, Neil Channing and Barny Boatman. It's something I am excited to come out of retirement for.
"Playing against Viktor, in a cash game, is not something I had in mind when I quit poker. I have decided I need a little help from the rail. So I have asked people who follow my Ranking Hero profile to call him a fish, and I have pledged 3% of my winnings to one lucky person on the rail."
What are the stakes?
"It's £5/10 game with a straddle. It's not a huge high stakes game. The emphasis is more on fun. If you win a pot with seven-deuce you win a gold bar worth £1,000. I was commentating on this game yesterday, and there were some interesting dynamics, as people with £1,500 – £2,000 stacks had the odds to go all-in with seven-deuce against ace-king."
Has anyone won a gold bar?
"At least three gold bars had been distributed before I finished the commentary and went home to do my Rocky impression before going to bed to prepare for my involvement in the game."
Who else has been playing?
"There is a mix of players. The former Aston Villa footballer George Boateng played. It was the first time he had ever player poker, and he did really well. He started by limping in every pot, but quickly realized that the game was aggressive. Afterwards, he changed his strategy, and started to play really well. Teddy Sheringham has also been involved, and Tomas Brolin is playing today."
How did you get an invite?
"Working with Ranking Hero I get to work with many companies, including Unibet. They said, "Why didn't I come back for the day and play some poker." You could say I was convinced to be the fish in the game."
Are we going to see the fedora come out of retirement?
"I was discussing it with my wife and she said no. I am a new person now, so I'm not sure I want to bring back the old guy."
Tell me more about your partnership with Unibet.
"We haven't disclosed anything yet, but we will do some amazing things together in the future. We have partnered with Aspers Casino in Stratford and will be doing a last longer tournament during the Unibet Open. Anyone wearing a Ranking Hero patch, who lasts the longest will get his or her buy-in back. It's a nice little free gift to announce our arrival in the UK. Starting on Thursday, come to Ranking Hero and have a look. We will be hosting some games where you have a chance to win a package to the Unibet Open in December."
Talk about your partnership with BLUFF Europe.
"Basically, it's been an incredible year. As we have grown we have started to develop stronger friendships. BLUFF Europe are very supportive of what we do, and we decided to work together on their rankings, which needed a bit of freshening up. We are helping them promote poker in general. I think it's important that people know where they are ranked, and to enjoy themselves accomplishing stuff.
"We think it's important that poker has to become a game again. At the moment it's perceived as just gambling, and we don't think poker players are all gamblers. We think a lot of them are like video game people. We want to introduce fun and social interaction.
"There are two types of poker players. There are people who want to make a lot of money, and then there are those who want to have fun. There are a lot of great resources out there for those who want to make money, but not so much for those that want to have fun. We think there is a lack of resources being offered to the latter and Ranking Hero can provide them with what they need. We will tell you when your friends cash, create some games, and have some nice moments with their mates."
It seems like the GPI are going down a more professional poker-playing route to 'sportify' poker and raise the profile in that way, whereas you are taking the more recreational poker player route. Is that about right?
"What the GPI is intending to do is raise the prestige of the whole industry to bring more people into the game. It's a huge challenge. You have to have amazing products to do that because TV companies and big brands are a little bit bored of poker. They lived the dream in 2004 and I am not sure they are ready to believe in it again. But I am a big supporter because if it works it will be a great thing for poker.
"What we want to do is to support the people who are already in the poker industry. We are focusing on the grass roots of poker. Let's say someone has seen 30 advertisements on TV about poker. What will the next one do? Nothing. So how do we get the guy who is on the fence to play poker? Perhaps, what he wants is one of his friends to express that it's fun, safe, and invite him to play through social media. We create fun competitions where our members share them with their circle of friends and we think that approach work. So far the people we work with are really happy."
Tell me a little bit about your recent trip to Malta for the MIGS 14, iGaming Seminar.
"We have started going to conventions. I went to Malta, and we had other members of Ranking Hero do likewise in Paris and Sofia. We think we have to educate the industry because a lot of the movers and shakers behind poker own sports books, casino and poker, but they don't really know what to do with poker. They are a little bit confused about how to engage their players. What we want to help them with is how to capitalize on the game and how to respect it. Poker players are more passionate about their game than an average Blackjack player is for example.
"We have been explaining what other mechanisms lead to poker players enjoying themselves, and the differences between recreational and professional players. We used to say 'shark' and 'fish' but that is old now. There are actually four types of players. The ones that play high volume/low volume, and those that win/lose money from the game – and they are totally different people.
"The poker industry is not doing amazingly well. The European market is mature, the US isn't a market yet, and the Asian market is getting there slowly. We are in transition. Everyone is thinking whether they should wait or not to jump in. Take France as an example. Nobody wants to put a euro into the industry right now."
Happy birthday…describe your year.
"In one year we have become the largest results database in the world with 20% more than our competitors. We've become a big community. There are around 150,000 people who come to Ranking Hero every month. We have over a thousand messages on the platform every week. We feel we have established that the platform is something poker players want. We have made more partnerships, started to make some revenue, and in the next six months you will see more partnerships formed. We are the best kept secret in the poker industry, but expect to hear much more from us in the coming months."