Lee Davy continues his life outside of poker series talking to Nicolas Levi about his move from poker player to businessman.
With close to $2m in live tournament earnings, Nicolas Levi, is a man who knows a thing or two about poker.
He has graced the final tables of the world's biggest tournaments, and acted as brand ambassador for Winamax, before deciding to semi-retire, in order to focus on two new projects: being a father and operating a new social poker network called Ranking Hero.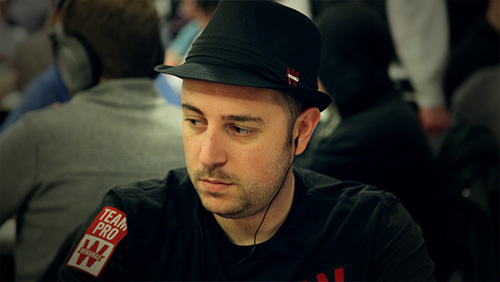 You took the decision to semi-retire from poker. Are you missing the game?
Surprisingly not; it's interesting that it was such a big part of my life and despite hardly playing a hand since November it's been so far so good. I am a little bit interested now the World Series of Poker is coming up, but I am very happy with my life as a businessman now.
Do you have any plans to play in the World Series?
Normally I would play between 15-20 events, but this year I am down to two. I am going to play in the Mixed Max event and the Main Event. I may also drop off at the Aria for the WPT500 event.
Going From a Poker Playing Trip to Working Trip Must be Strange for You?
It has always been a working trip for me because I have always been a poker player, and ambassador, but it is very different and I think this is why I don't miss playing so much. When I have tried to do both in the past I was so focused on business that I couldn't really sit at the table, relax, and focus on the cards.
It's a huge change, but I am excited about how I have moved into my new world, and now poker is just something I do for fun. Poker is about focus, concentration and observation, whereas in business I am always on the move, networking and trying to be a lot more sociable.
When I started playing poker I was a sponge. I was reading a lot of books, speaking to a lot of people about the game, and running simulations on excel to try and get as much info on this new field as possible; and business has been the same for me.
Another parallel that I can draw on is risk taking. In poker, you have to assess your time and bankroll. They are your two weapons, if you like, and everything you do is a value of time and money. The business world is the same. It's tremendously helpful that I can think of them in these terms. It has prepared me well for the emotional ride.
Describe Ranking Hero to the listeners in a few short, snappy sentences.
Ranking Hero is a social network. A place to discuss poker results, schedules, host a leader board with your friends and see results at your local club or casino. It's not just a place that holds data. I want people to have an exchange of information, to chat and have fun.
How was the idea born?
My friend Pedro Canali, a professional player from France, realized that the database world of poker was outdated and there was something more exciting to be done. He had a few ideas so we sat down and realized we needed a product that was more social and that's how it evolved. The results in France are tremendously positive and we are looking forward to repeating our success with the Brits, Americans the rest of the world in the coming year.
Who is in the team that the poker world may recognize?
Bruno Fitoussi is on the team, and also Lucille Cailly, the IveyPoker ambassador.
What have your main challenges been?
The biggest challenge is to become a social network. The database and formulation of all the stats was our first challenge. We have 1.4m participations in Ranking Hero and the new challenge is to be a place for media, information and a place for the people to come chat and talk about it.
It's starting to go well in France. Now all the hard work is coming together and we are looking to repeat the success of France in other places in the word. We are looking for everyone to give it a go because it is one of the most innovative and exciting projects to come out of poker.
Why should people check it out? What value does it provide for them?
Let me give you an example. Usually, when you make a final table, in your local card room or casino, everyone is gone and the only people who know what happened is the person you have defeated heads-up and the person who pays you out.
So at best you are going to be picked up by the big databases and have your results recorded. At Ranking Hero you will receive an email from us informing you that we have already posted your achievement on your wall and also sent it to all your friends.
Poker players should be very proud of their achievements, it's a wonderful thing to do and very sociable. If you love poker, like to have fun and chat with other poker players then Ranking Hero is the place to be.
What have been your biggest personal learning points?
At University, I studied computers and I was told that development always takes longer than you expect. I can verify that this is correct. Everything takes longer than it seems, like forging partnerships, raising money, and although it's very exciting and I can start to see results, business is very hard work.
In poker, despite the luck aspect, is very much within your control. If you do what it takes to be the best, results will come. In the world of business you have to accept that a degree of luck will result in a loss of control.