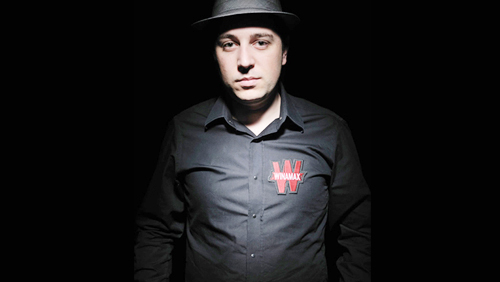 Nicolas Levi has won close to $2m in live tournament earnings in a career that has seen him make four World Series of Poker (WSOP) final tables and three European Poker Tour (EPT) final tables.
In the summer his partner gave birth to a beautiful baby girl called Alice and in his first live poker tournament since her birth he made the final table of the $2,500 No-Limit Hold'em event, at the WSOP, finishing in ninth place.
I was speaking to him after that amazing run and he was beaming. He had just made the final table, he was in profit for the trip, loving life as a father and he had this secret project that he called Ranking Hero. He passed me a business card and promised to talk to me about it when it was due to launch.
 Several months later and Ranking Hero has had its 'soft' launch and is available in Beta mode on an Internet near to you. From an aesthetics point of the site look amazing, but what exactly is its purpose? I asked the fedora wearing Frenchman for the lowdown and this is what he said.
"This ambitious project started two years ago when a group of special people realised that there was a market for a social media network for the poker industry. I joined the team about six months ago, and we are expecting some wonderful things in the near future." Said Levi.
The site reminds me of LinkedIn, Facebook, Twitter and Pinterest all rolled into a 'one stop shop' for poker; a comment that Levi concurs with.
"I have this almost hippy/optimistic view about the poker industry and Ranking Hero is an extension of that. It's so much more than just a place where you log on to check your results and then leave, it's an interactive space for people who belong in the poker industry." Said Levi before continuing. "Everyone who works on the project is a partner. Everyone has a percentage of the company and they all work really hard because they are a part of something special."
If you have a live tournament record then the chances are in your favor that you already have a profile built into the system. It is very similar to the Hendon Mob in the way it retains your statistics, only it looks a whole lot sharper, but the main difference is Ranking Hero allows you to take control of your profile and make as many changes as you would like. That's not to say that Ranking Hero is the new Hendon Mob because it isn't. Ranking Hero is a social media experience that happens to contain rankings and tournament results.
Levi was quick to explain that Ranking Hero assumes the responsibility to create a social media network for all of the poker community. This means players, dealers, tournament directors, bloggers, masseuses, etc. all have a home at Ranking Hero.
The site has the potential to be the 'one stop shop' for all your poker related queries, a place for poker people to mix and talk to other poker people, and also a place for the non playing poker community to showcase their talents and maybe drum up a little bit of business for themselves.
If you want to check out the site and start editing your profile then head to www.rankinghero.com and check out the Beta site. For more information on the site please listen to the full audio interview with Nicolas Levi just above this article.