The latest Full Tilt website makeover has removed most traces of their affiliation with Gus Hansen and Viktor Blom, prompting speculation that The Professionals have been axed from the wage bill.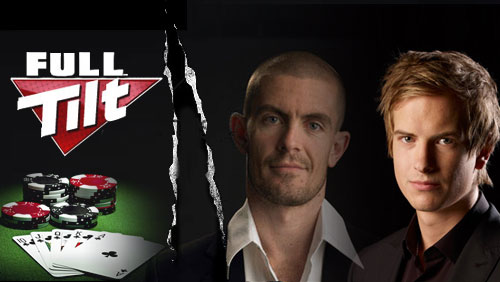 If you head over to PokerStars.com the grinning face of their Team Pro Online, Isaac Haxton will greet you.
"Get to know Team Online Pro – Click Here," states the advert.
Now head over to Fulltilt.com and what do you see?
Who's that guy?
Where have Viktor Blom and Gus Hansen gone? What has happened to all of The Professionals advertisements?
It seems the team behind the latest Full Tilt website upgrade forgot to replace the code for their sponsored pros – or have they?
Online poker rooms are notoriously slow at removing references to their sponsored pros, once they have been axed from their position. Jason Somerville was still gracing the pages at Ultimate Poker, days after he departed, and Marvin Rettenmaier is still shown as a member of partypoker, despite leaving at the tail end of last week.
So to remove them before any announcement has been made? If I were a betting man, I would say the pair are on their way to the sponsored pro graveyard where they will reside next to the bones of Joe Cada, Marcel Luske, JC Tran, et al.
It Hasn't Really Worked Has It?
Has it really worked?
Only the number crunchers at Full Tilt know the true answer to that question, but from the outside it doesn't look as if The Professionals has been the grand marketing success that everyone thought it could be.
Three of the biggest degens on the planet arrived but they didn't really deliver. Tom Dwan was dropped, leaving Blom and Hansen to take up the slack, and with combined losses of approx. $24 million in online cash game action life was made a lot tougher.
It's true that you don't have to be in profit to be the face of an online poker company – most poker players aren't anyway – and you don't even have to be any good at poker – insert the same sarcastic comment here – but $24 million? That's a lot of money.
Blame Full Tilt
You can look at The Professionals as a lost opportunity. The stories behind the lives of Dwan and Blom are epic. Why didn't Full Tilt make more of this? I have to sit through boring videos of PokerStars Team Pros telling me how they made it, why couldn't Full Tilt have done something similar with a story that would have actually have been interesting?
The final nail in the coffin has to be the ridiculous heads up encounter between Blom and Hansen. The loser got to sing the other players national anthem, and play low limit Razz, whilst the winner got a paltry $50k.
What were the marketing department thinking?
It seems I wasn't the only person who thought the idea was a crock of shite as Hansen himself didn't even turn up.
Please bear in mind that this is entirely speculation. If you look very closely at the bottom right hand corner of the Full Tilt website you will see a link to Full Tilt Pros and Hansen and Blom's profiles, and pictures, are still there. But one suspects that's just a cock up by the person who's job it was to erase them completely from the lives of Full Tilt.
I did consider reaching out to Viktor Blom to ask him if the rumors were true but anticipated that he would say, "Sorry, I don't do interviews," and kind of left it at that.