Lee Davy sits down with PokerStars Team Online member Isaac Haxton to talk about the recent culling of sponsored pros throughout the community, and his thoughts on personal relationships and how they endure the poker lifestyle.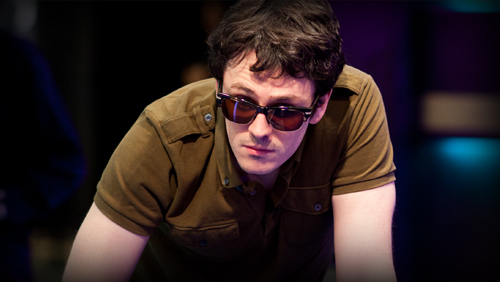 The first time I met Isaac Haxton was in Malta. He had recently moved to the island, post Black Friday, and was playing in a World Poker Tour (WPT) event. I really liked him and thought he was really down to earth, which was a good thing because I kept referring to him as Isaac Hayes in all of the posts I wrote about him.
When I bump into him in London, he's just trapped his finger in his apartment door and is looking for some ice. Ever the gentlemen, I ask him for an interview and despite his finger hanging off (well we are men) he agreed to a téte-a-téte.
As a member of PokerStars Team Online, I was interested in his views on the perceived threat that the mega stars like Ronaldo and Rafael Nadal posed to his job. This is what the young man, who did not write Soul Man, had to say.
"I am a bit hesitant to speculate on what the trend will be going forward, or what the reasoning is behind the large number of pros whose contracts were not renewed. I think a lot of it is just coincidence, and that a lot of players contracts just came up for renewal at the same time. There has always been a pretty high turnover of sponsored players on all the sites.
"It's very easy for people in poker to get their 15 minutes of fame for reasons that won't sustain themselves. Whether it's a Main Event final table or a couple of simultaneous deep runs; if you aren't going out of your way to stay relevant beyond just showing up and playing events, then I think it's pretty likely you will drift out of the spotlight over time and sites won't be as interested in spending money on you.
"To some extent, I think sites may be questioning the very idea of having a big budget for sponsored pros. Like any sort of marketing, it's pretty difficult measuring the impact it has and maybe there is a trend against spending a lot of money on that type of marketing right now but it's very difficult to speculate."
So is Haxton waiting nervously for his contract renewal date to come around, or is he keen to show his employer what value he brings to the table?
"I take the job very seriously. I have a job to do for PokerStars and it goes beyond just turning up for events. I want to make it very clear to them that I am earning my keep."
Haxton tells me that an old article of mine really got on his nerves. I ask him to expand.
"I believe the title was something along the lines of 'How to Survive as a Poker Player's Girlfriend,' and if I remember rightly, the thesis was something along the lines that poker players are such intolerable partners that the only chance of surviving a relationship with one is to become one yourself.
"As someone who has been in a relationship for 10 years with a girl who is not in the poker industry and I know other people who are in a similar position; that irked me a little and I didn't agree. I think, just like any other stressful career, poker puts a lot of strain on you, but you have a responsibility to cope with that stress in a way that makes you a decent partner.
"Poker is no worse than any other job where you have long hours, unpredictable times and work related stress. People in banking; doctors, and other occupations like that manage to get on fine."
Suddenly, I remember the article. It was based on the financial stress that poker can introduce into relationships, as well as the traveling.
"I think in both of those cases it's very analogous to other businesses. As a small business owner—and poker is a small business—you are running a business that requires capital to operate. You don't always have a profitable month, just like someone running a bar, restaurant or dental practice might not.
"You have a responsibility, as a poker player in a serious relationship, to help your partner understand this. As for traveling – it can be a big deal as you are away from home a lot – and that can put a strain on your relationship. If you do bring your partner with you, that takes a lot of getting used to. My wife travels to almost all of the tournaments with me, and that helps."
Doesn't children complicate the issue even more?
"I think we are likely to have kids pretty soon and when we do I will travel less and prioritize online poker more. When I do travel, my partner will probably stay at home with the children. But I don't think it's a big problem. There are more demanding jobs than poker that handle these types of things."