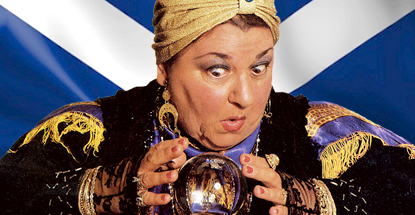 After Scotland voted 'No' to the idea of exiting the United Kingdom on Thursday, the only man happier than Prime Minister David Cameron may have been the William Hill punter who bet nearly £1m on the 'No' side prevailing. The unidentified bettor wagered £900k in a series of four wagers at a Hills betting shop in London, risking the lot in the hope of winning less than £200k.
Hills claims it handled around £3m in referendum wagers, three times the amount wagered on the 2010 British general election. All told, British bookies are believed to have handled around £10m, by far the largest sum wagered on a political event. Punters' interest in the event has raised expectations that future political props – such as the 2015 UK general election – will enjoy a similar bump in handle.
Betting exchange Betfair, which paid out £100k early on 'No' wagers at its fixed-odds sportsbook, said its exchange matched a total of £19m on the referendum, with nearly half that sum coming on the final day before the vote. However, the betting volume paled in comparison to the 2012 US presidential election, which garnered £32.2m in matched wagers, 40% more than Betfair reported during the 2008 campaign.
POLLS ARE FOR DOGS
Judging by their odds, most bookies had been predicting a successful 'No' vote more or less from the get-go, while many opinion polls declared the outcome too close to call or seriously underestimated the margin of the 'No' side's victory. Had Cameron listed to the bookies instead of the pollsters, he may not have made last weekend's rash 'vow' to give Scotland sweeping 'devolution' powers if they would only save his political hide by voting 'No'.
The superiority of prediction markets over opinion polls in gauging the public mood is a growing phenomenon (even the CIA is a fan). In a referendum recap in the New York Times, economics professor Justin Wolfers noted his own research that you get better poll results by asking people who they think will win rather than how they themselves plan to vote.
Regardless of their electoral defeat, the 'Yes' side can take solace in the fact that they forced the UK into granting Scotland greater autonomy, even if working out the specifics of these new powers will remain a hotly contested issue for some time. The UK had been like an inattentive spouse who took it for granted that their partner would stick around no matter how badly they behaved. Ultimately, it took Scotland changing its Facebook status to 'It's complicated' to jolt the UK out of its complacency.
Finally, the boss of this site had been vocal in backing Scotland's right to step out on the world stage as an independent nation, but even the good people of Ayr – where Calvin Ayre's Bodog brand has adorned the kit of Ayr United FC since 2011 – voted in favor of sticking with the UK. At least, for the time being. Having been born in Canada, which has witnessed its own share of referendum nailbiters, Calvin's command of French is sufficient to understand the meaning of the phrase: À la prochaine fois…