Our next installment of quarterly earnings and totty reports involves the folks who make the machines that fill the casinos that attract the gamblers that spend the money that puts the gold shingles on the house that Sheldon built. In keeping with the mechanical nature of these three companies, we're teaming them with three actresses who have played characters that are either wholly or partially machine-based. Read on…
BALLY TECHNOLOGIES
Slot machine maker Bally Technologies just turned in its fiscal Q4 and full-year results. For the quarter ending June 30, revenue was up 29.4% to $342.2m but profit fell nearly 8% to $59.6m as the company dealt with higher depreciation costs and acquisition bills as Bally continues to pay off its $1.3b acquisition of SHFL Entertainment last fall.
For the quarter, electronic gaming machine sales grew 35% to $120m, while gaming operations managed to rise just $2m to $105m due to higher jackpot expenses. Systems revenue rose 4% to $76m and table products – a new revenue stream added via the SHFL deal – contributed $42m.
For the fiscal year, revenue rose 21.8% to a record $1.2b, while earnings rose 29% to a record $428m and operating income rose 19% to $227.2m. The results are the last for Bally as an independent entity, having been swallowed by lottery and gaming technology outfit Scientific Games in late July.
Kristanna Loken (pictured left) played a highly threatening killer cyborg in Terminator 3; Rise of the Machines. These days, she's probably more known for her rumored lesbian relationship with her Bloodrayne co-star Michelle Rodriguez, which many men likely find infinitely more threatening, given the fact that two such stunning beauties have no apparent need for male companionship (at least, in the romantic sense). Still, phwoar…
AINSWORTH GAME TECHNOLOGY
On the other side of the world, Australian gaming machine maker and software developer Ainsworth Game Technology (AGT) – which does business with Bally – also ended its fiscal year on June 30. AGT reported revenue up 23% year-on-year to AUD 244.1m (US $228m), the fifth consecutive year the company has reported double-digit revenue growth. Earnings were up 21% to $89.4m while net profit after tax rose 18% to $61.6m.
Domestic operations saw revenue rise 15% to $143.3m, representing 59% of group revenue. Operations in the state of Victoria generated 75% of this domestic bounty. International revenue rose 37% to $100.8m, with North American operations rising 36% to $58.5m. Operations in Asia, New Zealand and Europe contributed a combined $10.4m, a 6% year-on-year decline that AGT blamed on the introduction of new gaming standards and dual language requirements in Macau.
Looking forward, AGT CEO Danny Gladstone said the company had high hopes for both its real-money online gambling and social casino operations. AGT's GameConnect Remote Gaming Server is active in New Jersey's regulated online gambling market and AGT has partnered with a social casino app provider to port AGT's slots library to the free-play sector.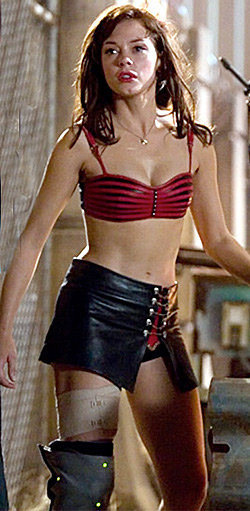 Readers of a certain age will have a particular fondness for Lindsay Wagner (pictured right), who played the original female counterpart to The Six Million Dollar Man. Wagner's The Bionic Woman character Jamie Sommers was in a skydiving accident, so they replaced both legs, one arm and one ear with bionic components, which allowed her to hear you chatting up some other woman miles away, then race on over and punch you senseless. Still, phwoar…
PARADISE ENTERTAINMENT
We finish with Hong Kong-listed Paradise Entertainment Ltd., which counts among its holding the LT Game brand of electronic table games (ETG) that dominate Macau's electronic baccarat market. In the six months ending June 30, Paradise reported operating profit of HKD 123.3m ($15.9m), a whopping 101% increase over the same period last year.
Revenue during the period rose 50.7% to HKD 610m, 87% of which is derived via Paradise's casino service vertical LT Macau, which operates the Kam Pek Paradise Casino under a SJM Holdings concession. LT Macau added management of Galaxy Entertainment Group's Casino Waldo and the Macau Jockey Club's reopened 'chipless' casino during the period.
The other 13% of revenue comes from sales and revenue-sharing of LT Game's Live Multi Game (LMG) terminals, which reported earnings up 59.7% year-on-year. LT Game recently inked a landmark distribution deal with International Game Technology (IGT) that will see LT Game distribute IGT's slots in Macau while IGT will distribute LT Game's LMGs outside Asia. (AGT serves as LT Game's official LMG distribution partner in Australia.)
Rose McGowan (pictured left) didn't technically play a robot in Quentin Tarantino's Grindhouse but McGowan's stripper character in the film's Planet Terror segment did have an amputated leg fitted with an automatic rifle. Besides, McGowan used to date shock rocker Marilyn Manson, which suggests that her brain may be at least partially powered by a dodgy computer operating system. We're thinking… Windows Vista?