Two days of idle World Cup action has been more than enough for me.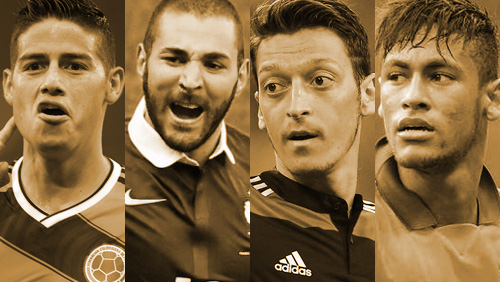 It was well-deserved, that's for sure. But I'm done with all the rest days. I want football back! I want the drama back! I want the World Cup back!
We're finally here. The quarterfinals of the World Cup. Eight teams left and for the first time in World Cup history, all eight group winners made it to this stage of the tournament. I'm not going to dive into any sort of revisionist history and point to what could have been for those teams that were bounced out in the Round of 16.
Let's look forward to what's in store for us when the quarterfinals begin today, starting off with a heavyweight smack down between powerhouses France and Germany.
France vs Germany
Last night, I was doing my usual late-night sports reading and chanced upon a story that at least seven players from Germany had flu-like symptoms. The team's inept play against Algeria was alarming but ultimately correctable. But the flu?You're at the mercy of whatever prescription medicine your doctors give you. And you can pass the virus to your teammates, which is what reportedly happened in this case.
All of this should ring music to the ears of Didier Deschamps camp. That is if you believe that France will let something like this distract it from the real dangers this German team poses.
Germany's arguably the deepest team in the tournament. It brings MiroslavKlose off the bench, for crying out loud! He's only the joint-leader in most goals scored in the history of the tournament. No big deal, right?
That's the kind of threat France is facing ahead of its quarters date with the Germans. Talk of illnesses within its ranks won't prevent it from fielding a formidable lineup that can still beat any healthy squad in the tournament, France included.
Look at the odds for that match and tell us that you're not worried as a France supporter that Germany, despite the drama in its camp, is still the short favorite at 8/5 odds with France close enough at 11/5, and a draw at 23/10.
This isn't to dissuade people from sticking with France. Les Bleus has been one of the more consistent heavyweight teams in a tournament bereft of consistent heavyweight performances. Outside of its close encounter with Nigeria, France has flexed its all-world might, a stark difference from the debacle of 2010.
But something about a down-and-out German team has the makings of an Eff-you performance, the likes of which could result in a one-sided trashing. That's what I'm looking at but for what it's worth, it's not a pick made in full confidence.
Just a guy feel, as they say.
Result: Germany 3, France 1.
Brazil vs Colombia
Pundits will bill this game as a South American tussle between an upstart and a resident powerhouse but really, the spotlight in this match will be pointed directly on two men: Neymar and James Rodriguez. It's unfair to bill a football match on individuals but this tournament as a whole has been predicated more on spectacular individual performances than complete and dominant team play.
The two best examples of that are the two aforementioned 22-year olds, each playing like the superstars that they are. Brazil's the understandable favorite leading up to this match but on the flip side, Colombia puts the live in the phrase live underdogs.
Have you seen these guys play? And while I'm here, have you seen those goal celebrations? Colombia's been the team of the tournament so far and when it's up against the tournament hosts and overall favorite to win the title, you can bet your bottom dollar that they're going to play about as loose as loose can be.
That could be a problem for a Brazil team that probably doesn't need any more weight of expectations on their shoulders, least of all on its prized 22-year old golden boy. I saw what Chile did to Brazil in the Roundof 16. Took a lot of football years out of their careers, not to mention made Thiago Silva admit to being scared shitless of taking a penalty shot.
There's fragility in the psyche of this Brazil team that doesn't seem to understand the magnitude of a failed World Cup bid on its own soil. That or they're too scared to come to grips with the pressure it brings. Either way, Brazil has the worst possible opponent in Colombia; a team who wasn't even supposed to make it this far yet has proven to be one of the loosest and most dynamic squads in the tournament.
Yes, I'm calling it. Colombia beats Brazil, 2-1, to move to the semis.
Result: Colombia 2, Brazil 1