Just like that, the 2014 World Cup is down to eight teams. And just like that, we're down to eight teams with odds to win the World Cup. For some, it's already an achievement to make it this far. For others, it's another road towards football immortality. Whatever their positions are, give credit to these teams for making it this far. And then wish them luck moving forward. But before doing that, we've ranked the last eight teams according to their odds to win the tournament. There aren't that many surprises here but if you're still looking to jump into the Costa Rica bandwagon, now's probably the time to do so.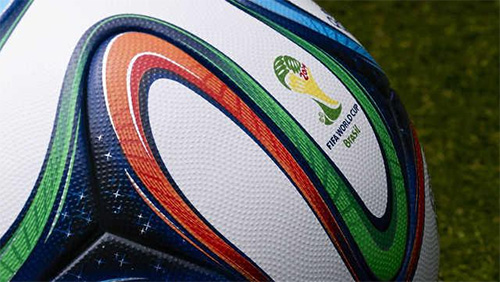 8 ) Costa Rica – This isn't an indictment of Costa Rica as it is a reminder that this team has overachieved more than any other team in the World Cup. Los Ticos wasn't even supposed to make it out of the group stages, let alone the Round of 16. Yet here they are, alive and still kicking while the likes of Spain, Italy, England, and Uruguay (the last three are its group mates in Group E) have all fallen by the wayside. Costa Rica's tour of revelation continues in the quarters when it meets the Netherlands in what could prove to be another barnburner. Pundits point to the Oranje overwhelming the last remaining team from the CONCACAF. But we've said that about Costa Rica before and they've made us look stupid each and every time.
Odds to win World Cup: 50/1.
7) Belgium – Give credit to Belgium for surviving an incredible and frantic finish by the US to win its Round-of-16 match. Quite arguably, that game was the best of the tournament so far and it says a lot about a Red Devils team that it can hunker down amid a hail of US crosses in the dying minutes of extra time to move on the quarters. Belgium's golden generation of football stars proved that it could be a bigger than the sum of its parts. Unfortunately, their reward for advancing is a date with Lionel Messi and Argentina. It's not going to get easier for Belgium at this stage of the tournament and if anything, we'll know more about how far the team has really come as a world power in football.
Odds to win World Cup: 12/1.
6) Colombia – A virtual lock to win the Most Entertaining Team of the Tournament award, the James (pronounced as "Ha-Mess", don't ask us why) Rodriguez-led Los Cafeteros have defied the odds to become a real contender in the World Cup. And they've done it without star striker Radamel Falcao, which many felt was a cataclysmic injury that doomed Colombia's chances even before the tournament began. But hot sauce, this James Rodriguez kid is something else, isn't he? He's the front-runner to win the Golden Boot award with five goals to his name and if his form continues, that's probably not the only hardware he's going to take home with him. A date with Brazil looms in the quarterfinals, though, making Colombia's road to the finals much more precocious. But like Costa Rica, we've learned never to count out these guys, especially when it has someone who's looking like the next big thing in football.
Odds to win World Cup: 12/1.
5) France – This is where it gets really tricky. All five teams have displayed flashes of dominance at one point or another in the tournament. It says a lot about the level of competition when you have France, arguably the most dominant squad of the group stage, sitting as the fifth favorite to go all the way. If anything, Les Bleus has proved that its 2010 no-show in South Africa was an aberration. More importantly, it's got a young squad that's brimming with players on the verge of superstardom. You can run down the list of names but one that has stood out has been Paul Pogba, the team's dynamic midfielder, who was largely responsible for France squeaking past Nigeria in the Round of 16. So why is France just the fifth favorite? There's an easy answer to that and it goes like this: Germany, Brazil, the Netherlands and Argentina. If it hopes to win the title, it's going to have to go through three of those four teams. Yikes.
Odds to win World Cup: 8/1.
4) Netherlands – Of the five teams with single-digit odds, the Netherlands is the only team that still hasn't won a World Cup. It came close four years ago, but a 1-0 defeat to Spain in extra time pushed the Oranje's World Cup finals record to 0-3. But history won't be the focus of this current squad, which features poacher extraordinaire Robin Van Persie and Arjen Robben, quite possibly the most polarizing player in all of football not named Cristiano Ronaldo. Robben's an elite talent and probably one of the 10 best in the world but all eyes will be on him after a controversial penalty resulted in the Dutch overcoming Mexico in the Round of 16. Robben was at the center of all that controversy for what many thought was a blatant attempt at diving to get the call. But none of that matters now because the Netherlands have the best chance to advance to the semis after drawing Costa Rica in the quarters.
Odds to win World Cup: 9/2.
3) Germany – France plays Germany. Germany plays France. Both teams are in the same boat, really. Whoever goes past the other has an impending date with Brazil in the semifinals. Germany, though, can argue that it's got the deepest team in the tournament from top to bottom. Even Brazil can't argue with that. But what it does with the talent it has is still to be determined. Outside of its trashing of Portugal in the group stage, Germany hasn't looked like the steam roller many people thought it was. That's probably the reason why it's only sitting as the third favorite to win the World Cup. For all of its talents, Die Mannschaft hasn't been able to collectively put its talents on display throughout the tournament. Lord knows, its quarterfinals date with France is as good a time as any for that to show up.
Odds to win World Cup: 9/2.
2) Argentina – Argentina and Brazil have been the two favorites even before the tournament began so with both teams still in it, those sentiments haven't changed one bit. Lionel Messi has come and gone throughout the tournament, mixing spells of brilliance with episodes of indifference. But when Argentina needs him, Messi comes through for them. Whether it's belting a screamer from outside of the box against Iran or playing the role of playmaker for Angel di Maria's go-ahead goal against Switzerland in the Round of 16, Messi has carried Las Albiceleste this far. Its quarterfinals game against Belgium is far from a slam dunk but we all know who the favorites are between those two teams.
Odds to win World Cup: 9/2.
1) Brazil – The hometown team retain their status as tournament favorites but really, they should actually consider themselves lucky for still being in the tournament. Had Chile's Mauricio Pinella's strike in the dying stages of extra time been a few centimeters lower, we'd all be lamenting at how Brazil incredibly crashed and burned in their tournament. But football, man, football is just brutal in all sorts of ways. Chile felt that first-hand against Brazil in the group stages, blowing a golden opportunity to beat Brazil. It was a missed chance that eventually bit them back, thanks to Julio Cesar's incredible penalty shoot-out performance. Now, Brazil has a chance to reclaim some of the laster it lost in that game if it handles Colombia easily. Far easier said than done considering how impressive the Colombians have been but if Brazil wants to live up to its favorite status, it has to start with that.
Odds to win World Cup: 11/4.
Comments