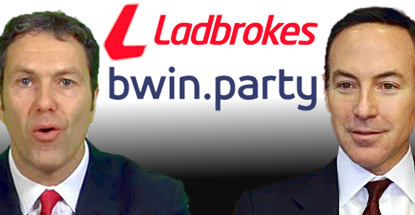 Richard Glynn (pictured on the left), the embattled CEO of struggling UK bookies Ladbrokes, got an overwhelming thumbs-up from shareholders at the company's annual general meeting in London this week. Back in October, reports surfaced that Glynn had been given until mid-2014 to right the ship or walk the plank. But despite the stock price having fallen 28% over the past 12 months, Glynn received nearly unanimous votes for both his reappointment as director (99.9%) and approval of his recently beefed-up remuneration package (98%). Both votes involved the participation of investors holding 68.5% of Ladbrokes' issued shares.
Meanwhile, the campaign by 'activist' investor Jason Ader (on the right) to bring leadership changes to Bwin.party digital entertainment gained new steam on Friday after two leading global independent proxy advisory firms backed Ader's proposed nominees to Bwin.party's board of directors. Ader, who controls 5.2% of Bwin.party stock through his SpringOwl investment vehicle, has proposed four new directors he believes have the strategic vision and technical expertise necessary to arrest Bwin.party's ongoing decline. Bwin.party has advised shareholders to vote against Ader's nominees at the company's AGM in Gibraltar on May 22.
Earlier this week, Ader laid out a detailed case for why he felt it was time to take the car keys away from Bwin.party's current brain trust. On Friday, advisory firm Glass Lews & Co. said Ader had made a "clear and compelling case for board-level change" given the company's "laggard shareholder returns and faltering operating metrics." Glass Lewis noted that Bwin.party had responded to Ader's arguments with "middling rebukes of decidedly nominal concerns" while approving "increasingly liberal executive compensation programs" that in no way reflected the losses incurred by rank-and-file shareholders. Glass Lewis therefore voiced approval of Ader's nomination of Michael Fertik, Francis Grady and Steven Rittvo.
Ader's other nominee, Kalendu Patel, received a favorable nod from ISS, who touted Patel's experience as head of strategy for electronics retailer Best Buy. Having weighed both Ader's arguments and the company's defense of its existing strategy, ISS concluded that "the dissidents have demonstrated that some change on the Board is warranted."
Ader issued a statement saying he was "gratified" that the advisory firms had agreed that a shakeup of Bwin.party's board was "in the best interest of shareholders." Ader urged investors to place their votes for change ahead of this month's AGM while Bwin.party has reiterated its previous advice to shareholders to reject Ader's nominees. Expect more fireworks as we count down to May 22.
Comments