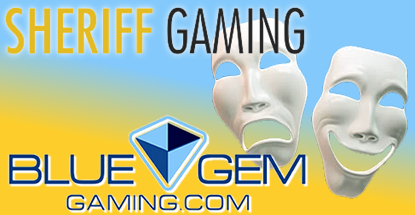 Well, that was fast. Less than a month after Blue Gem Gaming began marketing online casino game titles formerly associated with disgraced 3D slots developer Sheriff Gaming, Blue Gem's website has gone dark and its casino gaming content has been scrubbed from the third-party online gambling sites that had been hosting it. Seems Dutch authorities have seized those former Sheriff Gaming assets in conjunction with Sheriff's bankruptcy proceedings.
In case you're just joining us, Eindhoven-based Sheriff Gaming had been making a decent living developing 3D slots titles and licensing them to online gambling operators. But last May, Dutch authorities accused Sheriff's owners and CEO of a variety of criminal offenses, including illegal gambling, money laundering and drug dealing. The execs were arrested then denied bail, eventually prompting Alderney gambling regulators to first suspend then revoke the B2B gaming license of Sheriff's parent company, Bubble Group, which was forced into bankruptcy in late February.
In early March, the supposedly unaffiliated Blue Gem Gaming launched with a plan to continue marketing Sheriff's gaming titles to online gambling sites. The Curacao-based firm claimed to be founded by "the development team that originally created the games and exclusively licensed its IP to Sheriff Gaming whilst the company was trading." Said team included Tim Flapper, the brother of currently incarcerated Sheriff CEO Stijn Flapper, but the company told eGaming Review that Tim wasn't "on the payroll, in a key-figure position or co-owning in any way."
Pull the other one, said the Dutch Trade Tribunal, which seized the software assets as the legal property of Sheriff Gaming and thus subject to the ongoing bankruptcy proceedings. Dutch police also arrested Annette Mak, a 49-year-old lawyer suspected of having aided the original Sheriff shenanigans. Quotenet.nl reported that the authorities intend to detain Mak for at least two weeks while their investigation continues. Meanwhile, Flapper's next pretrial hearing is scheduled for April 23. Suffice it to say, the Sheriff/Bubble/Blue Gem team has yet to live up to the name of one of its most popular slots titles, the Amsterdam Masterplan.