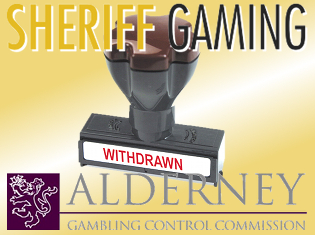 The parent company of Dutch 3D online slots developers Sheriff Gaming has had its gaming license officially revoked by the Alderney Gambling Control Commission (AGCC). A notice on the AGCC site says the Commissioners have withdrawn the Category 2 Associate Certificate of Bubble Group BV following a regulatory hearing on Monday at which it was determined that the company was "no longer fit and proper to hold such a certificate."
The AGCC had suspended Bubble Group's B2B gambling license in September after a joint operation by Dutch prosecutors, gaming regulators and tax authorities targeted Bubble Group's ownership over alleged drug dealing, money laundering and illegal gambling activities.
In November, Dutch authorities arrested Sheriff Gaming CEO Stijn Flapper, brothers Michel and Maurice Gregoire and an unidentified financial advisor on suspicion of money laundering, forgery, illegal gambling and involvement in a criminal organization. While Sheriff Gaming has stated that it expects to be cleared of any criminal activity, Stijn and Michel Gregoire were denied bail by a Dutch judge earlier this month after prosecutors insisted the investigation was ongoing and more arrests were imminent.
The license revocation follows Tuesday's news that Eindhoven-based software firm Bubble Gaming BV was declared bankrupt by a court in Oost-Brabant. When Dutch authorities pounced on Bubble Group in May, they seized 100 bank accounts, 80 residential and commercial properties and 20 vehicles believed to be linked to the alleged criminal activity. The official bankruptcy filing states that Bubble Gaming had no employees. The appointed curator overseeing Bubble Gaming's unraveling is Mr. G. te Biesebeek and the insolvency case file is numbered F.01/14/157.