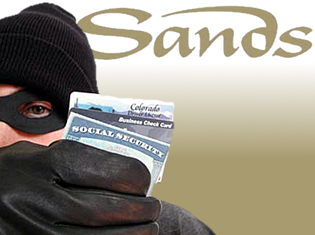 The hackers that broke into the corporate websites of casino operator Las Vegas Sands earlier this month made off with customers' personal information, including social security, driver's license and passport numbers, as well as credit card and banking info and a mailing database. Sands filed paperwork with the US Securities Exchange Commission on Friday which stated that the customer data was purloined from the website of the Sands Bethlehem casino in Pennsylvania. For the moment, Sands remains in the dark as to whether data has been stolen from websites related to its other casino properties.
In an attempt to minimize the scale of the data theft, Sands insisted that the number of affected customers represents less than 1% of all visitors that have crossed Sands Bethlehem's threshold since the joint opened in 2009. Sands spokesman Ron Reese subsequently clarified that the actual number of affected customers was in the "mid five-figure range."
Sands has set up a website (sandsinfo.com) and a toll-free number (1-866-579-2213) to answer customers' questions and/or allow them to vent their displeasure. Sands has also taken steps to notify affected customers and enlisted Experian to provide customers with free credit monitoring and identity theft protection services. Sands said it has yet to learn of any reports of fraudulent activity relating to the data theft.
The hackers are believed to have launched their assault on Sands based on comments made last year by company chairman Sheldon Adelson that advocated dropping a nuclear weapon in the Iranian desert as a warning to the country's leaders to halt their nuclear program.
Earlier this week, Sands Bethlehem president Robert DeSalvio abruptly submitted his resignation, effective March 15. Sands officials insisted at the time that DeSalvio's exit was unrelated to the hacking incident, and it seems they may have actually been telling the truth. On Friday, the Express-Times reported that DeSalvio had signed on with casino operator Wynn Resorts and will be assisting the company in its fight against Mohegan Sun for the rights to build a casino in Revere, Massachusetts.
Not all Sands news this week was dire. On Thursday, the Nevada Supreme Court ruled that Sands didn't have to turn over confidential documents to former Sands China CEO Steven Jacobs. Sands and Jacobs are engaged in a multitude of lawsuits stemming from Jacobs' 2010 dismissal, including Jacobs' wrongful termination suit and various defamation claims. In September 2012, District Court Judge Elizabeth Gonzalez ordered Sands to hand over the evidence in question but the Nevada Supremes ruled that Jacobs' attorneys had waited too long to file their request.