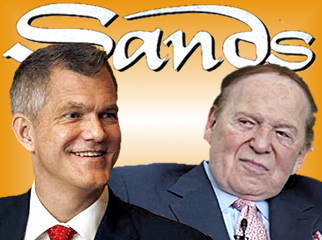 The Steven Jacobs problem isn't going away anytime soon for Las Vegas Sands Corporation. Now, the former CEO of Sands China is taking it a step further, accusing his former employer of stalling the wrongful termination lawsuit Jacobs filed in 2010 in order to conceal some evidences that could implicate the casino operator. In a filing this week in the Nevada Supreme Court, Jacobs disclosed that he had in his possession three investigative reports commissioned by Sands "on foreign government officials, as well as individuals with whom they were doing business that were suspected of having ties to Chinese organized crime".
"LVSC and Sands China believe they are above the law; too big, too important, and too influential to play by the rules," Jacobs said in the filing, as quoted by Bloomberg. "It is with this attitude that they ground this action to a standstill. It is a defendant's dream."
Interestingly, Sands didn't deny the existence of these reports, which were prepared by Steve Vicker of International Risk Ltd., instead claiming that Jacobs actually "stole" them. Sands spokesman Ron Reese explained that these reports weren't anything out of the ordinary and were only commissioned by the company as part of its leverage strategy.
Sands chairman Sheldon Adelson also said earlier this year that the reports were actually commissioned by Jacobs and not by the company itself. "I never asked or authorized Jacobs to conduct a private investigation of or 'create a dossier' on Macanese officials," Adelson said at that time. "We believe unequivocally that Jacobs initiated the investigation on his own for his own purposes."
LVS continues to deny Jacobs' allegations, calling his lawsuit "baseless" and even going so far as to say that his lawyers have been making "increasingly shrill claims" about evidences being sabotaged and tampered with in an effort to delay court proceedings. Though its too harsh to call it sabotaging and tampering, Sands did find itself in trouble last year – and was even sanction by a Las Vegas trial judge presiding over the lawsuit – for not disclosing a mountain of documents it had in its possession in Nevada, even saying publicly that those documents couldn't be legally moved from Macau.
The root of the problem between the casino operator and its former CEO stems from conflicts he had with Sands majority owner and chairman Sheldon Adelson, particularly Adelson's alleged demands to perform illegal investigations on Macau government officials to determine where the company can find leverage to secure a power play in Macau. Jacobs' allegations caught the attention of the U.S. Justice Department and Securities and Exchange Commission, both of which promptly opened investigations into whether LVS was in violation of the Foreign Corrupt Practices Act, which prohibits US operating companies from making improper payments to officials in order to secure a business.