Live tournament update sees Jason James leading the final 10-players at the World Poker Tour (WPT) Fallsview Poker Classic in Niagara Falls, Ontario, Canada.
If there is a better setting for a poker tournament I have yet to see it.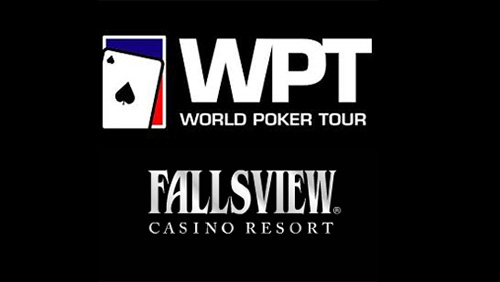 The Fallsview Casino Resort is situated right on the doorstep of the majestic Niagara Falls and one man enjoying the view more than most is Jason James who entertains a huge lead moving into the final day of action.
James hasn't exactly set the world alight with his live tournament exploits, but he has had a lot of success at this very casino with over $70,000 in prize money, taken from two final tables in tournaments held in 2011. James also cashed in the World Poker Tour (WPT) Canadian Spring Championships last year where he finished in 41st place.
The tournament attracted 383 entrants, 45 players earned at least $8,716 for their troubles and every remaining player is now guaranteed at least $23,815 come what may.
The winner will walk away with a $326,866 first prize, WPT Champions trophy, a place in the WPT Champions Club and a seat in the WPT World Championships to be held in Atlantic City in the summer, and James holds a 1.1m lead over his nearest rival Dave Graham, giving him a huge chance to win this thing when the cards get thrown back in the air.
Of the remaining 10-players three of them have the experience to present James with some problems should they build up a head of steam.
Josue Sauvageau finished in 11th place at WPT Montreal in 2012 and also has a 97th place finish in the World Series of Poker (WSOP) Main Event on his C.V; Dylan Wilkerson has now cashed in four WPT Canadian events since 2012; and Matthew Lapossie finished seventh at the 2009 European Poker Tour (EPT) Main Event the year Carter Phillips took the title.
Players with 'so close but no cigar moments' include Shawn Cunix (11th), Mike Watson (12th), Peer Jetten (17th) and Mike Leah (35th).
Final Day Standings
Seat 1 – Spiro Mikrogianakis – 1,455,000
Seat 2 – Jason James – 2,606,000
Seat 3 – Howie Leung – 657,000
Seat 4 – Josue Sauvageau – 1,234,000
Seat 5 – Xiaohu Chen – 237,000
Seat 6 – Peter Labib – 1,238,000
Seat 7 – Ben Graham – 1,556,000
Seat 8 – Dylan Wilkerson – 982,000
Seat 9 – Matthew Lapossie – 1,171,000
Seat 10 – John Boulougouris – 255,000