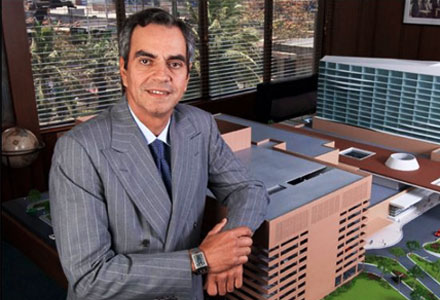 For all the interest Japan's impending casino legalization is getting from some of the world's biggest casino operators, even those that don't carry the same weight are also considering bidding for one of those (future) licenses.
Bloomberry Resorts Corporation only has one casino under its name – that would be Solaire Resort and Casino in the Philippines – but that hasn't stopped chairman Enrique Razon Jr. from pondering the possibility of entering Japan's casino market once its legalized in the country.
Speaking during the recent Euromoney conference held, ironically, at Solaire, Razon told Rappler.com that his company is looking at all of its options when it comes to how it would act when Japan finally opens its arms to casinos.
"Japan has a gaming law in the parliament that they are looking to pass. Of course that is market that we would be very, very much interested in," Razon said.
While underscoring the importance of waiting for the bill to be passed, Razon believes that Bloomberry has the credentials to be taken seriously in the country despite its relative status as a neophyte in the casino industry.
That being said, all that talk of building a casino in Japan is still a long-term plan, or at least one that won't be tackled until all the expansion and development plans for Solaire are finished. That is, after all, Razon's baby, and that's taking precedence over everything else.
Once the expansion is complete, the resort will add a new 300-suite boutique hotel tower, a performance theater with up to 1,800 seats, more retail and dining options, and most importantly, more gaming options to the tune of 200 more slot machines and 65 new gaming tables. The company just started the project after signing a Php11.425 billion loan facility with a completion date set for around early 2016.
Once the expansion is done and Japan's casino market is open, don't sleep on Bloomberry Resorts to take a stab at acquiring one of those licenses. It's got an uphill battle given the level of interest  some of the biggest casino operators in the world have in Japan, but expect Razon and co. to be in the mix, too.
Comments