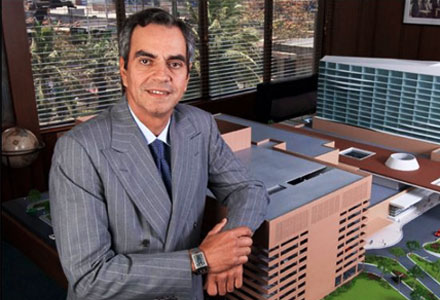 Bloomberry Resorts chairman Enrique Razon Jr. is an ambitious man and he's parlayed that ambition with the kind of 'go-get-it' attitude that has earned him the distinction of being the Philippines' third richest man. The Filipino billionaire earned his keep by turning International Container Terminal Services Inc. (ICT), a ports-operation company he started with his father in 1987, into one of the biggest of its kind in the world with operations in the Philippines and even as far as India, Colombia, and Argentina.
So when he gets that gleam in his eye, the kind that indicates lightbulbs flashing inside his head, you know that the man is planning for something big, or to borrow the tag line of Solaire Manila, his first integrated resort and casino in the Philippines, something that could be hailed as a "game-changer".
The success generated by Solaire Manila since it opened earlier this year has Razon thinking of expanding his casino business. And he doesn't mean expanding in the Philippines. He wants to expand overseas, similar to the strategy his family used in the global growth of ICTSI.
"We just have to build the brand," Razon told Bloomberg in an interview earlier this week. In building this "brand", Razon understands that saying it and doing it are two entirely different things. After all, despite the success Solaire has had in its first year of operations, the billionaire knows that it has a long way to go before it can step on equal footing with the likes of Las Vegas Sands, Genting, and SJM Holdings.
For starters, he still has to get his finances in order after spending $700 million to build the first phase of Solaire Manila with another $450 million in expenses on tap for the resort and casino's own expansion plans in the coming years. If things go according to plan, Razon is looking at a return of investment in five years, an eternity in the fast growing global gambling industry. There's no telling what that landscape is going to be two years from now, let alone in 2018.
But the man has built his fortune on making the right business calls far more than he makes the wrong one. If there's one man you listen to when he starts waxing ambition, it's Enrique Razon. He has a track record that you trust and Solaire Manila, despite being all of five months old, is reportedly doing better than expected, particularly its VIP gaming business, the driving force of the industry. It's even established a healthy roster of junket operators whose job is to put people in the seats of Solaire's gambling floor.
All this, of course, only goes to show the success of his first casino in the Philippines. It's still too early to even begin planning on the wheres and whens of his plans for global expansion. It's also a little too early to presume that such a direction will be the one Razon pushes for in the coming years.
It's just hard to bet on a man who has the credentials for making things happen.
Comments