With all of the money that flies around in this great game of ours, I sometimes forget how many youngsters we have in the game. People, who under normal circumstances, would be spending their time studying for a future that is going to end with a pension and a pair of cozy slippers.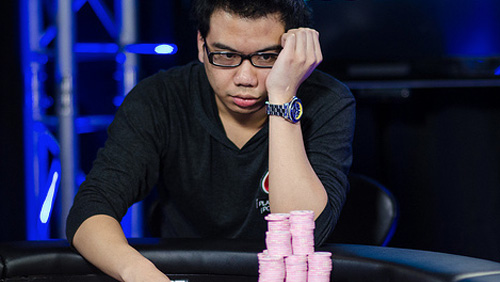 So it's refreshing to chat to the World Poker Tour (WPT) Champions Club member Chanracy Khun. The Canadian resident who took down WPT Barcelona back in Season XI; a tournament he entered whilst on holiday with his girlfriend.
Khun hasn't let that success get to his head.
He isn't about to lay down his pens and pencils and dive headlong into a pension and slippers strategy that comes courtesy of the world of poker. This kid prefers to have his life in his own hands.
He's smart this one. You can see it written all over his face.
"I am not the type of guy who has plans, and I think this helps me a lot because I just play poker to enjoy myself. If I don't want to play then I am not going to force myself to, and this reduces any potential stress.
"I'm a student – not a poker player. I just want to finish school and live a regular life. I hope that one day I can just play poker as a hobby and not worry about the financial swings. It's one thing to play to win money, but it adds so much pressure, and although some people thrive on that, I don't think I'm the type of person who wants to rely on poker to make a living."
So what is Khun studying, and why?
"I'm studying business and hopefully I can graduate and get a job I will enjoy. So my plans are to finish my degree and then whatever I like at the time I will follow that goal. My only goal at the moment is to just finish school and go from there."
And how has Khun's poker been going since that amazing WPT victory?
"I haven't played that much. Like I've told you before I mostly play cash games and a few tournaments when I am traveling. I did final table the Punta Cana Poker Classic. It wasn't a big field but I final tabled and finished 5th. It was a different experience to the one I had in Barcelona. Back then I won every all-in and could do nothing wrong, but in Punta Cana I came into the final table as the massive chip leader but couldn't win my 80/20s.
"Some people win a poker tournament and just keep on playing. I just took some time off and enjoyed my life."
And what does 2014 hold for Chanracy Khun?
"I have to continue to go to school, and get the best grades that I can. Then I'm thinking of going to EPT Monte Carlo and will spend two months in Vegas. I'll probably stick to the cash games, and then play the WSOP main event…doing well in that would be great."
And I could just see Khun taking the $8m and just walking back into school…I really could.
Check out other Annual Reviews here.