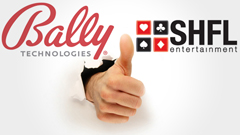 American gaming device maker Bally Technologies has officially closed its acquisition of casino device company SHFL Entertainment Inc., ending months of negotiations that probably took faster than people in the biz expected.
It was only a few months ago – July, to be exact – that the deal was announced, which called for Bally to pay $1.3 billion to SHFL Entertainment at $23.25 per share, including debt. Both companies approved the deal back in July and the initial timeline set for the deal's completion was the end of Q2 2014.
Apparently, the negotiations ran smoother than most people expected, especially considering that both companies had been rivals in the industry over the past years. But none of the supposed issues came into the surface during the initial sale announcement. Instead, both companies opted to compliment the other  with Bally CEO Ramesh Srinivasan even saying that the acquisition would pit "two highly complementary and customer-centric gaming technology companies with a shared commitment to innovation." Sound like a kumbaya moment, doesn't it?
The transaction was officially given approval by Nevada gaming regulators late last week and with both sides ultimately getting what they wanted, both can now move forward and do whatever they want. For SHFL, or at least the people who now used to own it, they get their sizable buyout. For Bally, the deal gives it the opportunity to extend its reach into Asia and Australia, where SHFL has well-established footholds in both card-shuffling and electronic table games (ETG) products.
All's well that ends well for both sides.