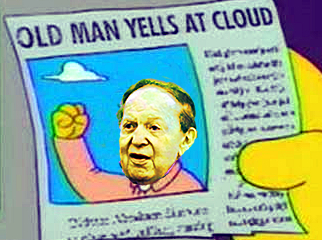 Las Vegas Sands chairman Sheldon Adelson doubled-down on his belief that online gambling causes cooties on Thursday. The irascible casino mogul called into Bloomberg TV to confirm that Wednesday's rabid anti-gambling op-ed in Forbes wasn't a temporary bout of paranoia resulting from having misread a pharmaceutical label, but did in fact represent his belief that online gambling is a "train wreck," "really toxicity" and "a cancer waiting to happen." Check out the interview for yourself, if only for the schadenfreude that comes from listening to the 79-year-old Adelson repeatedly pressing his phone's dial pad with his chin(s).
To dismiss suggestions that his opposition to online gambling was intended to protect his considerable brick-and-mortar casino biz, Adelson humble-bragged his #15 ranking on Forbes' rich list and pointed out that the vast majority of his casino profits come from Asia, and thus have nothing to fear from US online gambling. Adelson brought some of his US competitors into the mix by declaring he'd "just had lunch with Steve Wynn" and that the Wynn Resorts chairman was "not totally against what I am saying." As for online poker hopeful Caesars Entertainment, which lacks the Asian presence enjoyed by Sands and Wynn, Adelson suggested Caesars "have their own challenges. I do not have challenges."
POKER: BAD. BLACKJACK: MEH
Adelson also weighed into the poker 'skill v. luck' debate, calling the skill argument "a bunch of baloney. To get a card is not skill based." Adelson also singled out poker as "one of the most addictive games. People do not get addicted to necessarily playing blackjack. They get addicted for the game."
Adelson failed to cite any sources for his apparent belief in blackjack players' immunity to addiction, but one statement he made did have a basis in fact. Namely, that when "somebody is addicted to gaming, they are addicted to some other compulsive behaviors." (Just not blackjack.) It's well established that a small minority of individuals have impulse control issues, but Adelson appears not to have issues with online shopping or stock trading (the latter being the originator of the 'click your mouse and lose your house' meme Adelson used to kick off his Forbes op-ed).
Adelson also worries that poker is what the cool kids are playing. "I believe that poker and other forms of gambling, poker particularly since it's considered a social activity and not gambling per se, kids will get up in the middle of the night if they cannot sleep, or they come home late and they challenge each other to say, 'let's play some poker or some blackjack.' They are going to lose." Wait a minute… So blackjack is addictive now?
PEOPLE IN BRICK AND MORTAR HOUSES SHOULDN'T THROW STONES
Adelson reiterated his belief that online gambling allows people, especially "a kid that is either underage or of age with student loans … to get pressured by peers to go and gamble while they are drunk or doing drugs." Challenged as to how this is any different from B&M casinos, Adelson claimed "no land-based casino would let somebody that's out of control of themselves sit and gamble."
Guess that leaves out the land-based casinos that let high-rollers piss on the floor rather than run the risk that the whales might not return to the gaming table following the long trip to the loo? Or the casinos where employees supply patrons with ecstasy, cocaine and prescription pain killers? Does Sheldon know of any online gambling company that will ship illegal drugs to your door in lieu of a cash withdrawal?
ADELSON UNCOMMITTED ON CHRISTIE 2016
Because Adelson almost singlehandedly bankrolled the Republican party's 2012 election campaign, he was asked whether New Jersey Gov. Chris Christie's signing of his state's online gambling legislation would keep Adelson from bankrolling Christie's expected 2016 presidential run. Adelson ducked the question, saying he doesn't "reward or punish politicians. It's not my job." Besides, Adelson said Christie told him there was sufficient legislative support for the gambling bill that a gubernatorial veto would be "overridden or over-vetoed or whatever you call it." That said, Adelson said he wasn't making any Christie commitments. 'I like other candidates as well." That sound you just heard was Newt Gingrich's down-for-the-count political career rising from the canvas.