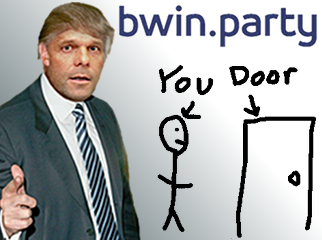 Struggling pan-European online gambling operator Bwin.party digital entertainment has continued its cost-cutting ways with the imminent departure of three top executives, all of whom have ties to the company's prospective US-facing operations. While yet to be confirmed by the company, sources told eGamingReview that biz-dev director Alen Lang, group technology director Tod Martin and World Poker Tour CEO Steve Heller have all been shown the door, and more redundancies could be in the pipeline.
Lang, who originally signed on with PartyGaming in 2005, was responsible for inking the company's US joint venture deals with MGM Resorts and Boyd Gaming, California's United Auburn tribe and social gamers Zynga. Ironically, in December Global Gaming Business magazine declared Lang to be one of its '25 People to Watch in 2013,' while Gaming Intelligence dubbed Lang one of its ten 'Backstage Heroes' for being "absolutely key" to positioning Bwin.party for future growth in strictly regulated markets.
The California-based Heller also joined PartyGaming in 2005 as CEO of its Asian-facing operations. Heller's role will reportedly be assumed by WPT president Adam Piska. Martin, who joined PartyGaming in 2008, saw his CTO role usurped by Bwin.party's addition of Guy Duncan this January, after which Martin has focused on developing Bwin.party's US-facing technology. Martin is expected to punch out for the last time later this year.
The exec exits follow Bwin.party's dire Q1 earnings report, which saw revenue fall to its lowest point in three years and indications are that the downward trend has accelerated in Q2. In April, Bwin.party CEO Norbert Teufelberger (pictured above in his more hirsute incarnation) announced the company would no longer accept new signups from 18 'grey' markets as part of a strategy to shift priorities from 'volume to value' (and to reduce its reputation as a rogue operator ahead of its on-again/off-again pursuit of a Nevada interactive gambling license). The revamp was intended to save the company €70m annually but the exec ejections suggest Bwin.party's cost-cutting measures have only just begun.
The fact that all three execs were originally PartyGaming men suggests Teufelberger is remaking the company in Bwin's image following the January departure of former co-CEO Jim Ryan (another Party alum). Bwin.party shares closed out Wednesday's trading down 3% to 124.7p, well off its 2013 peak of 156p but well above its January low of 101.3p.
Comments