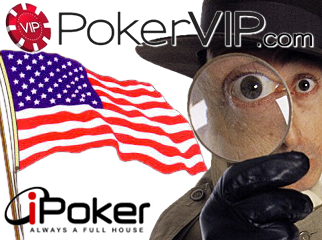 Online poker affiliate PokerVIP appears to be in hot water with Playtech's iPoker network after allegedly enabling US-based players to access the network via virtual private networks (VPN). Earlier this month, iPoker banned all player-to-player transfers on the network as part of an internal investigation, the focus of which remains unclear. Affiliate Muchos Poker, which allows players to transfer funds across multiple poker networks, was subsequently barred from accessing iPoker over unspecified "security concerns." Now iPoker has issued emails to its licensees instructing them to perform know-your-customer (KYC) verifications on all players by May 20 to ensure that they're not based in territories from which iPoker does not accept customers, such as the United States.
While the email (first disclosed by Pokerfuse) is generically addressed, it specifically singles out accounts connected to affiliate PokerVIP (although identified under its previous name iPokerVIP). PokerVIP is run by Jamie Nevin, who had previously run a service called OMGRB that provided US players with VPN access to allow them to play on and cash out from European poker sites "without worrying about ID verification." Via postings on the 2+2 forum, Nevin has denied that the iPoker investigation is specifically targeting his company and maintains that "in no way do we knowingly facilitate players from banned territories to play on any network."
But on the Poker Affiliate Listings forum, poster 'Vadimgust' accused Nevin of hiding behind a staking business to funnel US players into iPoker rooms. "The US players were registered on the rooms with different adresses [sic] and used a VPN, then pokervip.com transferred money to them per p2p transfer … once a player wanted to cashout they transferred back to pokervip.com and got the money transferred in a way US players can accept such as Paypal, bank transfer."
Nevin has attempted to refute this allegation but several other posters have provided evidence that Nevin has fudged details regarding dates when certain sites were operational, how old he was when the sites were launched and whether or not he's utilized certain online payment methods. iPoker has stated that following the results of its KYC check, any accounts found to be accessing its network from unapproved jurisdictions will be frozen.
Beyond the potential fallout for PokerVIP, if the iPoker investigation reveals that US players have indeed been routinely accessing its network, it could have long-term ramifications for Playtech's US aspirations. While iPoker withdrew its services from the US market post-UIGEA, the delay in detecting an apparently widespread digital workaround could give US regulators and/or domestic competitors all the ammunition they need to prevent Playtech from clearing the 'suitability' hurdle. After all (they'll argue), if Playtech can't prevent players from a different country from accessing its network, how can it be trusted to block players from non-gaming states?