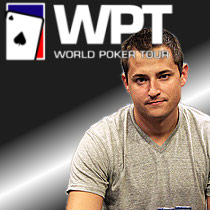 Matt Giannetti has earned almost $324k for winning the 2013 World Poker Tour Lucky Hearts Poker Open main event at the Seminole Hard Rock in Hollywood, Florida. It's Giannetti's second WPT title, having won the 2011 WPT Malta and this latest bounty brings the 2011 World Series of Poker fourth-place finisher's career live tourney tally to over $4.25m. Lily Kiletto finished second after only six hands of heads-up play, but hopefully the nearly $192k payday soothes her pain. 2012 Grand Prix de Paris winner Matt Salsberg, who finished sixth at last week's WPT Borgata Winter Open, also finished sixth at his second straight WPT final able. When you're hot, you're hot. And when you're not…
ISPT: I SUGGEST PRAYING TO… [INSERT DEITY OF CHOICE]
The International Stadiums Poker Tour (ISPT) provided more unintentional comedy this weekend after it was forced to cancel – sorry, postpone – its Day 1a online qualifier at Lock Poker after just two (!) players registered. Then again, if one was to believe the official ISPT twitter feed, "technical issues" were responsible for the one-week redo. Two other ISPT satellites at Poker770 were also postponed/cancelled/eaten by wolves. We sincerely hope some sportsbook puts up a prop on what act of God will get the credit for next week's satellite postponements. Our money's on global warming.
SEPARATE DRINKING FOUNTAINS AT LOCK POKER
Lock's woes aren't restricted to the ISPT. Over the past week, Lock Poker's corner of the 2+2 poker forum has been buzzing with news that Lock has segregated many of its tables from the rest of the Revolution Gaming Network, which includes sites like Intertops and Cake. At first, it appeared as if the segregation was limited to nosebleed tables, but it soon became apparent that the impact was much wider.
After a few days, Lock rep imjustshane responded to the thread, confirming that the site had "partitioned some of our higher stakes based on our current size and our soft poker ecology to better care for our players." Shane stated that Lock had just "trialed it at the higher stakes of NLH," a claim that was immediately refuted by Revolution players. Shane eventually copped to Lock having expanded the scope of the 'trial' based on a desire to ensure that "our casual players are only exposed to our own regular players."
Quite how it benefits casual players to be preyed on by Lock regs rather than those from other Revolution skins was lost on most of the 2+2 audience. More than a few irate players have suggested Lock's real motivation is to avoid the necessity of having to transfer increasingly scarce cash to winning players on other sites. It's no secret that Lock has had tremendous difficulty of late getting payments to its US players following the loss of a Western Union processor, but Lock's international players – who aren't supposed to end up as collateral damage in the war on US-facing online poker ecom – have also filed numerous reports of payouts taking up to two months.
Shane denied the accusation that Lock was having difficulty paying its Revolution skins, but acknowledged that the segregation was made because Lock was "trying to keep building for the future." Shane also downplayed suggestions that Lock queen Jennifer Larson would be turning out Lock's lights and "declaring bankruptcy any time soon, the assumptions this is based on are wrong." So, there you have it. Nothing to see here, folks. Particularly if you're on a non-Lock Revolution skin looking for a table on which to play.