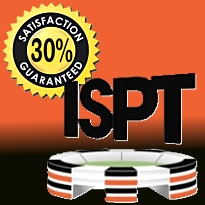 A physicist at Manchester University claims that 'skill games' such as poker or chess are impossible to master. (This may come as news to Viktor Blom who at last count was up over $4m in the first nine days of this young year.) Dr. Tobias Galla and Oxford University's Professor Doyne Farmer put test subjects through thousands of two-player game simulations, ultimately determining that when presented with multiple options, players make "chaotic, at times, random" decisions "stemming from confusion as much as anything else." Galla believes there are parallels between such game-play and playing the stock market, which could explain why the financial sector has been such an appalling cock-up lo these last few decades.
Confused might be an apt way to describe the organizers of the International Stadiums Poker Tour (ISPT), that wacky 'tens of thousands of poker players using laptops in Wembley Stadium' brainfart that emerged from the minds of the folks who brought you the not-at-all-complicated and ultimately aborted buyout of Full Tilt Poker. On Wednesday, the ISPT released an updated schedule of events for its inaugural go-round, which details the €300-buy-in online qualifiers via which you can attempt to become part of this boondoggle. Day 1a will kick off Feb. 3 in France, Feb. 10 in the US and Feb. 17 in the rest of Europe. Day 1f will get underway May 19, with the lucky 10% of online hopefuls advancing to the live portion at Wembley on June 1 through June 5.
Players in the UK and most of Europe can earn their way into the ISPT's final phase by qualifying via Poker770.com. French players can earn a spot via Partouche.fr and MyPok.fr. Poker770.es is the vehicle for admitting Spanish players, while the rest of the world can (if they dare) qualify via LockPoker.eu, but that would necessitate giving Jen Larson some of your money, which rarely seems like a winning option. Players can enter as many Day 1's as they wish, although doing so would seem to display an alarming inability to learn from one's mistakes. The ISPT reports that 8% of the tourney's overall players will finish in the money, a figure that rises to 70% if you choose to skip the online portion and proceed directly to the €3k-buy-in live portion on the Wembley pitch.
The ISPT seems destined to go down in history for the self-described audaciousness of its original plan – although the concept has since been scaled back to a mere online satellite series followed by a live event, which hasn't been groundbreaking for a decade or more. No, it seems the ISPT will forever be associated with the admittedly impressive promotional video they made to pimp the thing way back last fall, which included a prominent '$30m guaranteed' banner at the end. Suffice it to say, if you want to get yourself noticed in the crowded world of online poker, this is how you do it.
Too bad another video – the one of last July's press conference at which organizers Laurent Tapie and Prosper Masquelier insisted the €30m guarantee was genuine – has since been scrubbed from the web, much as ISPT partner Partouche attempted to scrub the web of their videos guaranteeing a €5m prize pool at the final PPT Cannes event in September. The ISPT site's FAQ now explicitly states that "the prize pool is not guaranteed" although Tapie claims to be "very confident" that the prize pool will top €10m (just as they're quite sure the finale will take place in Wembley, and not under a hastily erected lean-to in Hyde Park). Sure that's a non-guaranteed two-thirds haircut from the original promise, but that's okay, because the mere privilege of participating in the inaugural ISPT event "will be a success* for players."
(*Success not guaranteed.)