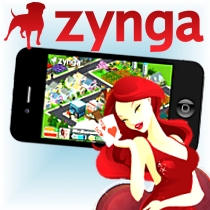 Social gamers Zynga reported $311m in Q4 2012 revenues, a figure virtually unchanged from the same period a year ago, but which nonetheless beat analysts' expectations. The net loss for the quarter was $48.6m, or six cents per share, compared to $435m in Q4 2011. Expenses fell dramatically – from $798m to $274m – in part due to cost-cutting measures announced in October that included significant layoffs, production studio closures and scrapping of unpopular games. Full year revenue rose 12% to $1.28b, while net loss for the year hit $209m – just over half 2011's $404.3m. For Q1 2013, Zynga is projecting revenues of $255m-$265m and an adjusted loss of four cents to five cents per share.
During Q4, Zynga's daily average users tally came in at 56m – up 11% year-on-year but down 6% from Q3 2012 and well off the 72m peak in Q2 2012 – and monthly average users were also down 4% to 298m from Q3's 311m. The key metric of average daily bookings per average daily active user fell from six cents in Q4 2011 to five cents. Overall bookings fell 15% to $261m, the fourth straight quarter that figure has fallen. Monthly unique payers were down 1% year-on-year and down 2% from Q3. Game revenue fell 3% while ad revenue rose 35% to $36.8m. Despite the negativity, Zynga shares closed out the day up 7% at $2.74, and were up further still in after-hours trading.
Three unpopular games – CityVille 2, The Friend Game and Party Place – will get the axe, and Zynga says it won't wait as long in future to "call the ball" on games that don't set the world on fire. (Brian Reynolds, the game designer who took the lead on CityVille 2, resigned from Zynga a week ago.) Looking ahead, Zynga's pipeline is full of 'midcore' games, i.e. games that allow players to get a complete game fix in a shorter session, custom made for mobile users.
On the post-earnings analyst call, CEO Mark Pincus said that, like Facebook, the emphasis was on mobile, with more Zynga teams now working on mobile product than for the web. For the first time, Zynga offered hard numbers on its mobile users, revealing that around 72m (24%) of Zynga's monthly average users are playing solely via mobile devices, which CFO Mark Vranesh said represented a 75% increase from a year ago. Mobile accounted for 21% of Zynga's overall bookings in Q4, up from 8% last year. However, Vranesh said he doesn't expect mobile games to "have a meaningful contribution to 2013 revenues," and Zynga projected overall bookings would fall to $200m–$210m in the current quarter, presumably because mobile users are generally less likely to pay for virtual goods than web users. So careful what you wish for.
Zynga Poker's audience grew 8% year-on-year to 37m monthly active users in Q4 and was responsible for 20% of Zynga's total online game revenue – more than any other single title (although Words With Friends is Zynga's most popular mobile title). As for Zynga's real-money gambling tie-up in the UK with Bwin.party, Pincus would be no more specific than to say the launch was on target for H1 2013. Who knows? Zynga may find out whether its Nevada interactive gaming license application is approved before ZyngaPlus earns its first real-money gambling dollar.