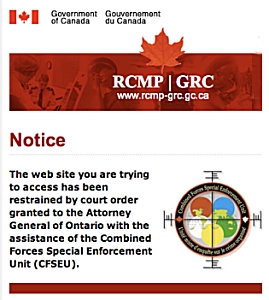 Following a two-year investigation, police in Canada arrested Hells Angels' member William Miller along with five other individuals connected with an online sports betting operation on Sunday. A total of $2.5m in cash was seized as a result of nine search warrants served on residences in the Greater Toronto Area and London, Ontario. Police also seized the domain of a Costa Rica-based website, PlatinumSB.com, which now displays only a Royal Canadian Mounted Police (RCMP) seizure notice, similar to what US law enforcement agencies have slapped on other gambling domains seized over the past few years.
The investigation that led to the arrests was the work of the Combined Forces Special Enforcement Unit (CFSEU), a multi-jurisdictional operation that includes the RCMP, the Ontario Provincial Police and various local police departments. The targeted operation, which had been in business for nearly a decade, was a credit betting shop that used the website to place the wagers while the money was handled in person in the greater Toronto area. The arrested individuals face charges of bookmaking, participating in or contributing to an activity of a criminal organization, keeping a common betting house and conspiracy
The arrests took place at a banquet hall in Markham, Ontario, where some 2,300 people had gathered for an invitation-only Super Bowl party. Officers interrupted the festivities during the second quarter of the football game, with witnesses reporting officers moving through the crowd and visually identifying suspects who were then marched off in handcuffs. Police seized 20 computers that had been set up to allow those in attendance to wager on the game, although a partygoer told CTV News they didn't see any gambling going on. At a press conference on Monday, York Regional Police Supt. Paul Pedersen stated that police were "very comfortable" in saying the party was thrown by organized crime groups.
US COOPERATES WITH CANADIAN DOMAIN SEIZURE REQUEST
RCMP spokesperson Michelle Pierce told CalvinAyre.com the raid was part of Project Amethyst, which also produced the arrest of 21 Ottawa-area individuals connected with a separate online credit betting operation in November. Pierce said the PlatinumSB.com domain – which is registered via Washington-based Enom Inc. – was seized after obtaining a Canadian court order and after a request was submitted under the Mutual Legal Assistance Treaty (MLAT) Canada has with the US. The US is home to the Internet Corporation for Assigned Names and Numbers (ICANN), which presides over all .com domains, and WHOIS queries reveal DNS server updates to the PlatinumSB.com domain that could only have been made by ICANN's omnipotent fingers. (For the record, the US has bilateral MLATs with over 60 countries.)
While Pierce stated that the RCMP was alleging the whole operation was illegal "from stem to stern," she clarified that the RCMP was "not saying in any way that the group that's administering this particular domain or housing the server name is in any way doing anything wrong. In fact, they've cooperated with us under a judicial authority." Pierce said the RCMP believed "the proceeds that came through this offshore gambling were then funneled back into other criminal activities." Pierce said there were specific forms of gambling unavailable to Canadians through their provincial lottery corporations and "organized crime took advantage of this."
Given that more and more provincial lottery outfits are taking their operations online – the Ontario Lottery & Gaming Corp. recently launched an information-only site dubbed PlayOLG.ca to pimp the launch of its own online operation later this year – we felt compelled to ask whether the RCMP would go on to target legitimate international online gambling operations offering Canadians more wagering options than provincial lottery corporations. Pierce would only say that gambling through the lottery firms was "licensed, monitored, measured and it gives back into the community," and that gambling outside these parameters was "illegal" for Canadians.
CALM BEFORE THE STORM?
While taking sports wagers at an Ontario banquet hall is undoubtedly illegal, many legal eagles maintain that it's absolutely not illegal for companies like William Hill, Bet365, Ladbrokes, PokerStars et al to serve the Canadian market, provided these companies don't base their operations in Canada. Some of these companies have also entered into highly visible sponsorships with the Canadian Football League, with nary a peep of protest from law enforcement agencies. But is this silence about to be broken?
If this episode indicates anything, it's that the viability of an American-registered .com domain can no longer be assured simply by steering clear of offering services to Americans. Only time will tell, but the safety of a .ca domain may prove equally sketchy. The US now appears receptive to requests from other countries to target gambling firms by attacking their online backbone. (We eagerly await ICANN's reaction after China files a request to seize Google.com because it refuses to IP-block Chinese residents from accessing information on Tianamen Square, or the New York Times' domain because it won't stop publishing dirt on China's leaders.)
While Canada has yet to take any action against the big European online gaming companies, those firms can't be pleased with the knowledge that this is now an option Canadian law enforcement can consider employing. If OLG's online offering ultimately fails to make much of an impact with Ontario's gamblers, will outspoken CEO Paul Godfrey start publicly calling for measures to prevent international operators from drinking OLG's milkshake? Will a company like Bwin.party then beat a hasty retreat like its individual components did from the US in 2006, or will it dig in its heels, like it did in Belgium and Germany, and furiously spin its black market status into that of a free market white knight? In case Norbert Teufelberger was curious, Canadian prisons do not all serve poutine on Fridays.