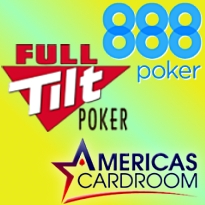 Just in time for Halloween, Full Tilt Poker has risen from the dead. On Wednesday, the eerie specter of a reborn FTP appeared online, 16 months since the US Department of Justice and some really, really dumb management decisions consigned the once mighty online poker site to an early grave. The official launch date for real-money play outside the United States (with certain country exceptions) remains Nov. 6, but the site is now up and running in play-money form.
Players can log into their long-dormant accounts, view their balances and check their FTP points, but the cashier functions – including the new 'Transfer to PokerStars' option – remain inactive for another week. (US player accounts will show a zero balance, in case you were wondering.) FTP poker room manager Shyam Markus posted a detailed update to 2+2 in which he described the soft launch as something of a beta test to make sure the wheels won't come off the day they start playing for real cash. Regardless, the reaction from many players has been like greeting the return of a prodigal son, albeit one that once stole your wallet, diddled your wife and left a steaming pile on the living room carpet before slipping out the back door.
Greg Merson may have won the World Series of Poker main event crown, but 888poker definitely won the patch battle, with both third-place finisher Jake Balsiger and runner-up Jesse Sylvia sporting 888 swag throughout the marathon three-handed session. Fourth place finisher Russell Thomas was also a Team 888poker member. Now, after dominating the October Nine, 888 is preparing for a November to remember with a SUPER XL Series featuring a $2m guaranteed prize pool. Major events will run daily from the $100k Opening Event on Saturday Nov. 17 to the $500k Main Event Sunday Nov. 25, plus a $10k Webcam Event on Monday the 19th and daily satellite tourneys with buy-ins starting as low as 8 cents.
Fresh off the news that the Merge Gaming Network had decided to curtail P2P transfers among players on the network, America's Cardroom has spotted an opportunity. The member of the US-facing Winning Poker Network has announced it's increasing daily P2P transfer limits from $100 to $1,000. Weekly limits have been raised from $250 to $2,000 and monthly limits have gone from $1,000 to $5,000.
Finally, poker icon Phil Ivey has launched a website, the exact point of which remains unclear. IveyPoker.com is apparently a poker training site with some social elements thrown in, although its current incarnation's functionality is limited to signing up for a mailing list. Ivey has already enlisted the help of some fellow pro players, including Patrik Antonius, Jennifer Harmon and (timing is everything) brand new WSOP champ Merson. Ivey told ESPN the site will be free to use and feature videos of Ivey and his roster o' pros "answering questions and teaching people how to play live." Just don't ask him about his days with Full Tilt Poker.
Comments