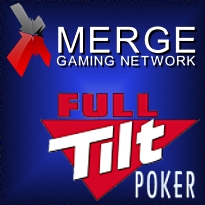 The US-facing Merge Gaming Network has decided to restrict poker players' ability to make P2P transfers between player accounts. The decision was revealed on the 2+2 forums by the official representative for Merge skin BlackChipPoker, who reported that "as of November 1 [Merge] will be removing all players' ability to send p2p transfers from the poker client … this is a decision taken by merge, and one we were not consulted on." This is an unpopular move for Merge's US players, who relied on transfers to players located outside the US in order to expedite payouts.
Merge subsequently issued a statement saying the decision "was not taken lightly. A number of factors were considered and we are confident this is what is best for Merge and its partners." Merge declined to say whether or not this was a temporary restriction. Nov. 1 is also the date that Merge's largest skin, Carbon Poker, plus smaller skins Aced and PDC Poker are switching to a different cashier. Carbon rep 'CarbonRyan' claimed that "deposit options will be vastly improved, with higher success rates and available limits." Carbon's new cashier is reportedly the same one utilized by the Jazette family of sportsbooks, which makes sense, since this month saw the launch of Carbon's sportsbook, Carbon Sports, a white label of Sportsbook.ag.
As US players continue to find their pursuit of online poker a frustrating endeavor, players outside the US got more good news this week regarding Full Tilt Poker. While there is still no hard info as to when the US Department of Justice will begin refunding FTP's US player deposits, French gaming regulator ARJEL has informed French players they will be able to access their frozen funds starting Nov. 2. FTP's new owners PokerStars will email customers with details of the withdrawal procedure ahead of this date.
In Canada, the Sportsnet TV network has begun airing four teaser ads touting the Nov. 6 relaunch of FTP for players outside the US. The ads are much the same – black and white cinematography, close-ups of cards and chips in action, and all ending with a tagline indicating the company's Nov. 6 rebirth – but the Rush Poker one is probably the coolest. Enjoy…
Comments