UPDATE: Full Tilt Poker support has issued the following statement:
As you have heard, the Alderney Gaming Control Commission (AGCC) has suspended Full Tilt Poker's license with immediate effect, subject to a formal hearing late July. Full Tilt is in ongoing discussions with the AGCC with the aim of rectifying the situation as soon as possible, therefore re-enabling real money play on the site. Unfortunately, until this is resolved Full Tilt Poker is unable to facilitate any play, and this includes deposits and withdrawals. Full Tilt Poker are deeply sorry for this inconvenience and will update you as and when there is further information available.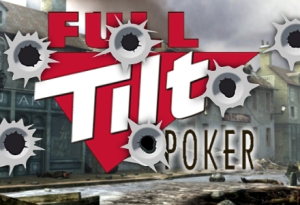 Here we go again… Anybody suggested a catchy nickname yet? WTFnesday?
✖ Regarding the decision to suspend Full Tilt Poker's license, Alderney Gambling Control Commission exec director Andre Wilsenach told Forbes' Nathan Vardi that "The law allows me if I think it's sufficiently serious and in the public interest that I can suspend [the license] today until such time that we have a hearing." Following a post-Black Friday forensic audit of FTP, Wilsenach said the AGCC "obviously got grounds to believe that our licensee has acted not in accordance with the law." Wilsenach claims these grounds would be made public at the scheduled hearing in London on July 26. Requests for comment sent to the AGCC were answered with emails saying "The decision to suspend Full Tilt Poker's operations is an interim step and one that was taken with an aim to stopping any further deterioration in the current situation."
✖ Skrill/Moneybookers has formally ceased accepting deposits made to FTP. Earlier this week, Subject: Poker reported that Skrill had taken issue with FTP's apparent decision to arbitrarily allow some withdrawals but not others, with speculation mounting that FTP was favoring specific account holders at the expense of others. Skrill subsequently released the following statement:
Our customers are the most important part of our business. That is why we have, from today, stopped accepting deposits made to Full Tilt Poker. Over the last couple of weeks, we've become aware of a situation where Full Tilt has not honoured customer pay-outs and we've been working to try and resolve this issue on our customers' behalf. Unfortunately this hasn't been possible and today's suspension of their license by the Alderney Gambling Commission has validated our decision. We apologise for any inconvenience caused to our customers and hope you understand that extraordinary circumstances, beyond our control, have brought about this action.
✖ Belated reports that French gaming regulator ARJEL fined FTP €10k on June 16 for failing to store information properly. ARJEL is reportedly conferencing on the AGCC situation and may make some announcement re FTP's fate Thursday.
✖ Speaking of June 16, much is being made on 2+2 poker forums regarding a June 16th post from "Deuc3s" which read: "Fulltilt will announce its to default on American payments on 29th of June. Shortly after that they are to cease." (Deuc3s may have atrocious spelling and grammar skills, but in this case, at least, he was a pretty good prognosticator.) Deuc3s was considered something of a troll, prompting the 2+2 mods to delete the thread, but it lives on in Google cache form.
✖ Unconfirmed, but sources are telling us FTP honcho Ray Bitar had a home seized in Ireland in the past week, although by whom and under what authority is unclear. Bitar had four homes in Glendale, CA seized by US authorities in May.
✖ QuadJacks.com quoted a source "inside FTP" that the poker site would reopen late Wednesday after scrubbing all AGCC references from the site, with the intent on operating sans license. In other 'put on a happy face' news, Poker Players Alliance VP of Player Relations Rich 'The Engineer' Muny told PocketFives.com that the AGCC move could benefit U.S. players. "I think it's great news for American players because this is the type of action that will cause Full Tilt to take the steps it needs to in order to repay American player. When you look at them being non-compliant in following Alderney's gaming procedures, it's clear that a mitigating step will be for them to repay US players. The more pressure on Full Tilt, the better." Yeah, because up till now there's been zero pressure on FTP to pay US players.
✖ Eager to keep FTP's bad news contained to Alderney, the Isle of Man's Gambling Supervision Commission issued the following statement regarding its prominent licensee PokerStars:
The Isle of Man Gambling Supervision Commission wishes to make it clear that the licensing status of PokerStars in the Isle of Man remains unchanged following today's statement from the Gambling Control Commission in Alderney. Alderney is a separate jurisdiction from the Isle of Man and the operation in question is separate from PokerStars. PokerStars continues to demonstrate compliance with its licence conditions in the Isle of Man. PokerStars continues to offer withdrawals to any players who wish to withdraw their funds, including players in the USA to whom PokerStars does not currently offer real-money gaming.
PokerStars issued its own statement, which read (in part):
PokerStars' online operations continue as normal and all funds in players' accounts are safe and available for withdrawal as usual with no delays. PokerStars also remains in full compliance with our licenses in other jurisdictions where we are regulated, including France, Italy and Estonia. As provided under our licensing, PokerStars has always maintained the integrity and security of our players' funds, by keeping all such funds in segregated bank accounts, always available for immediate withdrawal.
✖ The only people happy at Wednesday's news? Bwin.party Digital Entertainment execs, who saw their stock rise 11.43% on the day.
✖ Finally, interesting conspiracy theory re the timing of Black Friday from a couple different sources, who say that while the DoJ investigations had been ongoing for some time, the timeline was accelerated by casino mogul Steve Wynn's announcement of his company's tie-up with PokerStars. Unnamed peeps inside Nevada regulatory bodies allegedly complained to the DoJ, who put a bug in President Obama's ear. Wynn has been very public of his active dislike (to put it mildly) of Obama, and Obama saw a great chance to give Wynn a taste of the back of his presidential hand. Better than finding Seal Team Six on your doorstep, we imagine, but still…
Comments