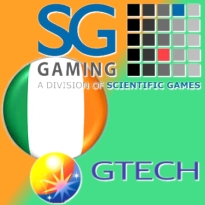 Lottery tech provider Scientific Games Corp. has created a new entity dubbed SG Gaming to encompass three of its non-lottery subsidiaries. Now living under the same roof are Barcrest (game supplier to pubs, bingo clubs, arcades as well as online and mobile), Games Media (ditto) and The Global Draw (supplies fixed-odds betting terminals to betting shops). Steve Frater will act as SG Gaming's executive chairman, Ian Timmis will be CEO, Robert White is to be COO, ably assisted by CTO Gareth Philips. SG Gaming's HQ will be in London with international offices in Mexico and Puerto Rico.
Lottery giant Lottomatica Group has announced that its GTech Corp. subsidiary has inked a one-year contract extension with the Arizona Lottery. The decades-old relationship, which sees GTECH provide the Lottery with operation and maintenance of its central system plus field services and hotline management for the Lottery's 2,800 retailers, has been extended through August 30, 2015.
GTech is one of the firms that have expressed an interest in being awarded the new 20-year contract to run the Irish national lottery. On Tuesday, Minister for Public Expenditure Bendan Howlin appointed Davy Corporate Finance as special advisers to assist the process of selecting a new license-holder. Howlin says the competition for the 20-year contract – for which the government reportedly expects an upfront payment of at least €400m – has already attracted "considerable interest," especially since the government is expected to introduce legislation relaxing rules on internet ticket sales. Besides GTech, the Irish Times says UK lottery operator Camelot, Aussie betting outfit Tatts Group and current license-holder An Post (whose 12-year run ends in June 2013) have all expressed interest.
Finally, a UK father is calling out supermarket chain Asda for their refusal to sell him a National Lottery ticket. Trevor Haines told The Sun he was wrapping up his shopping at an Asda store in Somerset with a stop at the lottery kiosk. Haines' eight-year-old son Zak knew what his dad wanted to buy, so he ran up to the counter and made the request, only to have the clerk refuse him due to his age. When Trevor placed the request himself, the clerk refused again, claiming that Trevor intended to give the ticket to his son and thus was encouraging the boy to gamble. Trevor didn't see the logic. "I'd taken [Zak] down the beer aisle and now I was taking him to a tobacconist … so was I teaching him to drink and smoke? It's madness." We anxiously await the day some parent is refused entry into a Catholic church because they'd be teaching their son that pedophilia is cool.
Comments