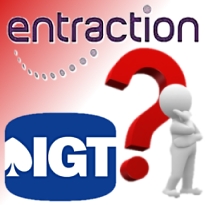 The IGT Network aka the Entraction Poker Network may be headed for the scrap heap as its owner, US gaming device maker International Game Technology (IGT), prepares to "consolidate its product development." IGT acquired Entraction in May 2011 for $115m with an eye toward using the software to launch a US-facing online poker operation pending market regulation. (IGT was awarded a Nevada interactive service provider license in June.) But concerns that Entraction's operations in 'grey' markets around the world might cause Nevada regulators' eyebrows to arch prompted IGT to block customers in multiple jurisdictions, resulting in a steady loss of liquidity across the network.
IGT's European skins have already begun jumping ship, with Malta-based 24hPoker affiliate manager Sami Kurvinen telling PokerStrategy the site was leaving IGT "because of the low liquidity on the network. We want to offer our players better traffic and better options," although Kurvinen couldn't yet say on whose greener pastures 24hPoker's players would soon be grazing.
IGT has remained cryptic on the fate of its poker network, releasing a statement saying "change and uncertainty in European market conditions had diminished the expected returns in certain real money wagering products." However, the statement hedged IGT's bet by saying the downgraded expectations were limited to its European dot-com business, and did not impact "future decisions regarding entry into new markets as regulation, taxation and commercial opportunities arise … we remain focused on our interactive casino/slot offering, which has experienced steady growth, and look to integrate the Entraction products into our overall set of platform offerings." This may be a case of making lemonade out of the lemons life handed you – the likelihood of IGT reducing its losses by selling Entraction appear all the more dubious considering the Ongame network has been on the market for some time and still can't find a buyer.
It's interesting to contrast IGT's relative disinterest in the former Entraction with its far more expensive acquisition of social game outfit DoubleDown Casino, which continues to roll out new products – including titles from IGT's own library – and sign new convergence co-ventures with land-based casinos. Every parent has a favorite kid, it seems…