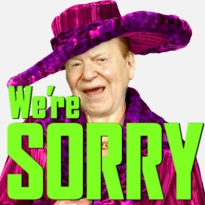 Las Vegas Sands (LVS) chairman Sheldon Adelson received a formal apology from the Democratic Congressional Campaign Committee (DCCC) on Thursday over two DCCC press releases that suggested Adelson had approved a "prostitution strategy" at his Macau casino operations. The DCCC was actually repeating allegations made by former Sands China boss Steve Jacobs, who is suing LVS for wrongful termination. Regardless of where they got the idea, noted Republican backer Adelson wasn't having it, and demanded the DCCC apologize or face his deep-pocketed legal wrath. The DCCC now says the statements were "untrue and unfair and we retract them." The DCCC extended a "sincere apology to Mr. Adelson and his family for any injury we have caused." LVS issued a statement that the DCCC climbdown "should serve notice" on any other would-be Adelson antagonists.
In other LVS news, the company has officially thrown its hat into the ring to become the lucky builder of a casino in Toronto, registering five lobbyists to start whispering into the ears of local pols. Senior VP Andy Abboud said LVS hadn't settled on a specific site on which it wanted to build, but said the company's "main interest" was "in the downtown core and the waterfront, because we want to be close to the existing tourist infrastructures." In May, Ontario Lottery and Gaming Corp. chairman Paul Godfrey cited LVS' Singapore property Marina Bay Sands as the type of joint that would work well in Toronto.
Caesars Entertainment, last seen being fined $100k by Nevada regulators for letting minors drink and gamble, received the go-ahead this week to corrupt the youth of Maryland, er, break ground on a $300m, 100k-square-foot, 3,750-slot casino near the Camden Yards stadium in downtown Baltimore. The license will be held by a Caesars affiliate, CBAC Gaming, while the joint itself will be unimaginatively dubbed Harrah's Baltimore. (Because Harrah's Djibouti was taken?)
Caesars' approval marks the final gaming license up for grabs following a 2008 referendum in which voters approved casinos at five Maryland sites. However, Maryland legislators will hold a special session on Aug. 9 to discuss a possible sixth casino in suburban Prince George's County as well as the possibility of allowing the state's casinos to add table games to their slots-only offering. And in a surprise move, the speaker of Maryland's House of Delegates, Michael Busch, wants lawmakers to consider the possibility of online gambling. In a memo to his fellow Democrats obtained by the Associated Press, Busch stressed Maryland's need to "put our gaming program on par with other jurisdictions in the Mid-Atlantic," some of which have already approved table games and "other forms of gambling." Neighboring Delaware passed online gambling legislation in June. While it's unlikely that any online gambling legislation will emerge from next week's special session, any expansion of gambling will need voter approval via the November ballot.