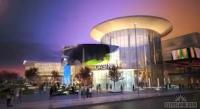 May 14, 2012 is fixing to be a landmark day in Ohio as the state's first-ever casino, the Horseshoe Casino Cleveland, officially opens its doors to the public.
The Horseshoe, as it has been affectionately called, is the first casino to open in Ohio after voters approved casinos in 2009, thanks in large part to the allure of opening up employment opportunities in the state, as well as become an added source of tourist revenue for the state.
In addition to the Horseshoe Casino Cleveland, another casino – the Hollywood Casino Toledo – will be opening its doors on  the 29th of May. Two more casino, located in Columbus and Cincinnati, are also in the pipeline. The Horseshoe Casino Cleveland was the result of a $350 million project that has been built in Cleveland's Higbee department store.
As it stands, the casino is only in its first phase with a second phase expected to rise later on, although no timetable has been set for when that's going to happen.
In an effort to bolster employment opportunities for local Buckeyes, the Horseshoe Casino Cleveland promised that it would hire 90% of its workforce from the northeast region of the state. And true to their word, Buckeyes account for 94% of all the employees of the casino.
What's interesting about the Caesars-owned Horseshoe Casino Cleveland, at least as far as the standards people have set for establishments like this, is that it doesn't have its own hotel; it's a straight up casino.
While talking to the Associated Press, Jeff Cohen, a principal of Rock Gaming, a partner in the casino with Caesars Entertainment, explained that instead of a hotel and resort environment where everything tourists and customers would want would be spitting distances from each other, the Horseshoe Casino hotel was designed to encourage gamblers to enjoy the whole community of downtown Cleveland. "We want our patrons to spill out into the community and support the local restaurants and hotels," he said.
Over the years, Cleveland and the state of Ohio has received plenty of grief from a lot of people for not being a place that tourists would flock to. Sure, there's the Rock & Roll Hall of Fame in Cleveland, but after that, its slim pickings. But now that you can add the casino factor like the Horseshoe Casino Cleveland into that equation, coupled with the continued improvements of downtown Cleveland, then its pretty fair to say that things are definitely pointing up for Cleveland.
Comments