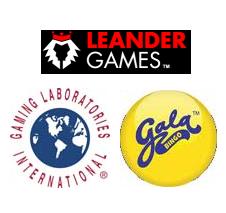 Leander Games has announced its "Reely Roulette" game has now gone live and is online with the likes of operators such as Unibet, Betclic, Bet24 and Betsson. The launch means the operators are now offering Leander's slot game to their customer base.
Speaking on behalf of Leander Games, Ramiro Atucha, CEO and Founder said: "Integrating our games with such esteemed names in online gaming is a great endorsement to our highly skilled in house team of mathematicians, graphic artists (2D,3D and motion), developers, artists and musicians."
Reely Roulette is part of the "Reely Series" of games and combines two games in one, featuring a distinctive side bet feature, which currently has a patent pending. "Spin the Roulette" side bet feature enables players to place chips on a roulette table and wait to see which number hits the relevant reel.
More than 365 regulators from across North America are expected to attend a two-day event with gaming test labs Gaming Laboratories International (GLI), welcoming Jan L. Jones, Exec. V.P. of Communications and Government Relations for Caesars Entertainment as a keynote speaker.
Held at GLI University's 11th North American Roundtable, Jones will open day two of the two-day Roundtable on 8 March, addressing what GLI expects to be a record crowd of more than 365 regulators from across North America. Her address will begin at 9 a.m.
In a press release, GLI President and CEO James Maida, said: "We are absolutely thrilled that Ms. Jones, one of the Great Women of Gaming, will deliver a keynote address at our annual Roundtable. From her current position directing global governmental relations for one of the world's largest gaming companies to her two terms as Mayor of the City of Las Vegas, she brings an incredibly valuable perspective to our regulators."
Jones was the first woman to be honored with the Lifetime Achievement Award in Gaming Communications by the American Gaming Association.
UK bingo operator, Gala Bingo, has announced it is now accepting global e-commerce company PayPal, to accept payments online. A statement release by Leander today said this new payment function will go live on 1st March 2012 and is set to make placing a bet and collecting winnings on galabingo.com "even easier".
Marketing Director of galabingo.com, Matt Prevost, said: "We are always looking for ways to improve the online playing experience. To increase our customer's security and ensure that they trust in our service, we have introduced the PayPal payment option. We hope this new offering will appeal to all our regular players as well as encouraging new people to try galabingo.com."