Sunday night's 46th Super Bowl at the Lucas Oil Stadium in Indianapolis: what a game! If you didn't catch it, you must have already heard: the New York Giants defeated the New England Patriots 21-17 to win the Lumbadi trophy, thanks to second-time Most Valuable Player Eli Manning, making them the first 9-7 team in NFL history to win a Super Bowl.
The Giants were the first to lead with a safety as Tom Brady was called for intentional grounding, but it wasn't all plain sailing for the New Yorkers. Manning found Victor Cruz with a two-yarder before Scotsman Lawrence Tynes added the extra point from the boot, making it 9-0.
However, the Patriots bit back in the second quarter when Stephen Gostkowski's field goal made it 9-3. Patriots looked all set to turn the game around when Danny Woodhead got on the end of one from Brady for a four-yard touchdown and Gostkowski added the extra to go into half-time 10-9 up.
Patriots looked set to steal the game after the early deficit when they finished a 79-yard drive with Brady finding Aaron Hernandez on the seven-yard line as he drove it in and Gostkowski again kicked to make it 17-9.
New York managed to get the game back to within two points, marking the start of a Giants come back. It all changed when Bradshaw scored an accidental touchdown, falling backwards over the line to make it 17-21. The kick went too wide to earn the Giants any extra points but it was enough to win them their fourth Super Bowl trophy – defeating the Patriots for the title twice in the last five seasons.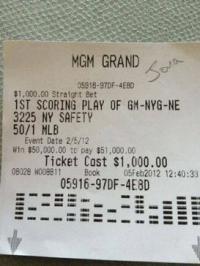 Sportsbooks were allegedly pulling for the Patriots to cover the spread – obviously that wasn't the case. It wasn't as bad as 2007, though, but some shaky books might feel the pinch.
Reports online reveal that a lucky bettor in Vegas bet $1,000 at 50/1 that the first score of the Giants-Patriots Super Bowl would be a safety. That lucky son of a gun made himself $50,000 profit thanks to the intentional grounding.
In other, not-so lucky circumstances, reports state that rapper Birdman may owe sportsbook giant BetOnline.com $5 million after taking him up on his Super Bowl bet on the New England Patriots. No-one has yet confirmed, let's hope for Birdman's sake it's merely hearsay.
Seems like the majority of you guys were wrong too, in our online poll that demonstrated 37% of our readers predicted a victory by the Patriots.
Did you bet on Super Bowl? Did Patriots empty your wallet? Let us know!