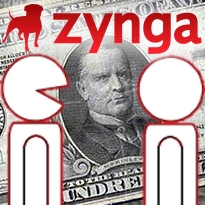 It was just days ago that Zynga CEO Mark Pincus admitted that the US Department of Justice's flip-flop on the scope of the Wire Act had changed his social game company's stance regarding offering real-money gambling in addition to virtual play. On Friday, a Zynga spokesperson made the following comment to AllThingsD.com: "We know from listening to our players that there's an interest in the real money gambling market. We're in active conversations with potential partners to better understand and explore this new opportunity." Zynga already operates the phenomenally popular Poker app and unveiled plans last October to expand into bingo and casino games.
Naturally, Zynga provided no clues as to with whom it was discussing these potential partnerships, nor did it suggest a timeline for when real-money play might commence. Like everyone else, Zynga is watching and waiting to see who wins the race to enact online gambling laws, establish regulations and issue licenses. In the short term, however, Zynga's announcement had its desired effect: the stock rose 6.5% on Friday, making up some (but not all) of the ground the stock had lost since its December IPO.
Facebook, whose members provide Zynga with (in Zynga's own words) "substantially all of our revenue," has stated it currently doesn't "have any plans to get into real-money gambling." Of course, that's what Zynga said only two months ago, so take Facebook's statement with a grain of salt, especially since Facebook was reportedly engaging in "exploratory talks" with gambling industry consultants in November. Then again, with Facebook's own IPO expected in April of this year, maybe they're saving the "we love gambling" announcement for the month after the floatation, you know, when the initial frenzy has died down and the stock price needs a boost.
Of course, Zynga and Facebook aren't the only ones chasing the dream of converting play-money gamers into real-money gamblers. Witness IGT's willingness to splash out $500m to acquire Double Down Interactive, or Caesars Entertainment's purchase of Israeli gamers Playtika. Just this week, Caesars Interactive launched its own Facebook game, Caesars Casino, offering slots, roulette and blackjack. Zen Entertainment, which supplies Nevada online poker license applicant South Point Poker with its digital back end, announced this week that it was expanding options to access its play-money casino games with the addition of Mac- and PC-compatible browser based applications, with an iPad app expected in a few weeks. Zen CEO Craig S. Billings called the launch "a milestone in the evolution of our network." Make no mistake: the evolution of social gaming is far from over.