Two days after Christmas, Phil Ivey's ex-wife Luciaetta filed new documents with the Nevada Supreme Court re her ongoing efforts to set aside the terms of her divorce settlement from the poker pro. As first reported by the Las Vegas Review-Journal, Luciaetta's filing states that, despite her attempts "to secure information to confirm that she received a fair settlement," Phil's alleged refusal to provide said info "only supports her belief that the settlement was not fair." For example, the loot Luciaetta received from Ivey via the divorce included $1m in jewelry, but Luciaetta's new filing points out that "Phil ignores that his own jewelry is awarded to him with no assessed value." Stop ignoring your bling, Phil!
While Luciaetta's filing states that she "had no idea [at the time she agreed to the divorce terms] and has no idea now where Phil's money came from or where it went," she knows she received $180k/month as part of the sum Phil received each month from Tiltware, the parent company of Full Tilt Poker. But Luciaetta has since learned that Phil's share of the Tiltware loot came to $740k, meaning Tiltware was paying Phil a total of $920k/month ($11m/year) until such payments abruptly ceased in April 2011 following the Black Friday indictments. The new filing states that "under community proper laws, Luciaetta would have been entitled to share equally in this asset and its income stream."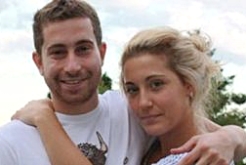 It's not for us to decide whether or not Luciaetta has a legitimate claim to Phil's Tiltware millions, but we suspect Jonathan Duhamel's ex-girlfriend Bianca Rojas-Latraverse has a legitimate claim to being one cold-hearted bitch (allegedly). Rojas-Latraverse was one of four individuals arrested and charged in connection with the home invasion, assault and robbery of the 2010 World Series of Poker main event champ. She and John Stephan Clark-Lemay will remain in jail until their next hearing in early January, while co-accused Andre Perron has been released on $1,500 bail until his next court appearance in May.
Duhamel has since shed a little more light on the nature of his former relationship with Rojas-Latraverse, who accompanied him to the 2011 WSOP. Despite breaking up on what Duhamel described as fairly amicable terms, he noted that "there's no relationship that can end on good terms, so of course it was bad, but it wasn't bad, like, real bad. It was just like normal bad, I guess." However, Duhamel admitted to QMI Agency that "[dating her] wasn't the best of my decisions. Maybe it was about more than a robbery. Maybe vengeance was involved. Maybe she wanted to hurt me." Duhamel told CBC's Douglas Gelevan that while he had moved on from the demise of the relationship, "it seems like she didn't."