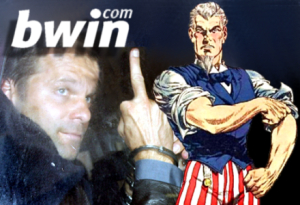 Bwin.party (Pwin) co-CEO Jim Ryan recently revealed to Forbes.com that he's spent the last month or more crisscrossing the United States, doing his dog and pony show for potential investors. Part of his act included a one-page chart that listed the top online poker companies, with red lines struck through the ones that had quit the US market following Black Friday. With the big three out of the picture, Ryan claims his own PartyPoker brand has moved to the top of this list, at least in terms of consumer awareness (since Party doesn't actually take US customers). So there you have it. PartyPoker: Olympic gold medalists in online poker, provided the original gold, silver and bronze medalists are all disqualified on technicalities.
While admitting "there is no guarantee that online gaming will ever regulate in the US," Ryan says his "focus" remains on America. When pressed, Ryan is realistic that the only way a foreign company like his will ever get to play in any regulated US market will be as a technology provider only. He also finally admits that there is a good chance (this site and most others who understand this issue consider it a certainty) that poker will be rolled out state by state and not federally. But Ryan comes off the rails when the subject turns to the $105m settlement PartyGaming paid the US Department of Justice to apologize for having accepted bets from US citizens pre-UIGEA.
Ryan apparently feels the DoJ settlement has lowered the US drawbridge for his new company, but he's forgetting that the company that settled with the DoJ has since grown another head. Bwin.com took bets (sports bets, in particular) from US citizens pre-UIGEA, just as PartyGaming did, but Bwin never reached a PartyGaming-style settlement with the DoJ. Ryan and Bwin.party co-CEO Norbert Teufelberger appear to believe PartyGaming's settlement works like a plus-one invitation. Sorry, but this is America. Nobody rides for free, and in the eyes of US law, the Bwin.party merger means we now have a company that hasn't settled, not one that has.
Additionally, American law requires license-holders to be of good character. No doubt the DoJ is all too aware that Teufelberger was arrested for operating an unregulated and illegal online gambling site in France in 2006. At the time, a Bwin spokesperson admitted that the site knew it was operating in violation of French gaming laws. A German appeals court recently told Bwin that it was operating illegally in Germany – and had been for years — but as Germany represents Bwin's biggest revenue stream, Bwin continues to insist the law has it all wrong. So the DoJ will likely add 'unrepentant' to Bwin's list of perceived character flaws.
PartyGaming is in a no-win situation here. If the DoJ forces Bwin to make financial penance, then the cost will be borne by Bwin.party shareholders. If, on the other hand, the DoJ lets Bwin off without a penalty (as in the curious case of 888 Holdings), then the $105m of shareholders' money that PartyGaming surrendered to the DoJ was a completely unnecessary expenditure. With so much invested and absolutely zero sign of any return on that investment, it's small wonder that Ryan's focus is on America. Meanwhile, back in London, Bwin.party stock came within a couple pence of its all-time low on Tuesday. What will the dawn's early light bring Jim Ryan?