Paradise Co. Ltd., which operates Paradise City casino resort in South Korea, as well as three other casinos, didn't have a considerably productive first quarter. Its revenue was up and down – mostly down – and the second quarter didn't provide much relief. This could be set to change, though, if JP Morgan analysts are correct. The financial brokerage says the third quarter will be Paradise's time to shine.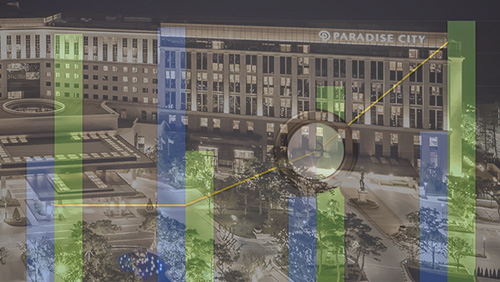 Analysts with JP Morgan Securities (Asia Pacific) Ltd believe that Paradise will turn a profit this quarter, and that it will ultimately be able to report around $27.2 million in operating profit for the second half of the year. Given the $1.29 million loss the company reported for the first half, that gain would be a huge boost for Paradise.
JP Morgan analysts DS Kim, Jeremy An and Christine Wang explain, "Profitability should improve meaningfully from here given continued ramp of Paradise City and likely improving hold ratio," adding, "We expect [the company's] net profit to turn positive from the third quarter."
Paradise hasn't been able to report a positive gain in profits since the third quarter of last year. That quarter was particularly lucrative, giving the company $3.88 million across the three-month period.
The current quarter will see similar results, which will follow through until the end of the year, according to the analysts. They expect that, as Paradise continues to dedicate more resources to building up its operations, profits will continue to climb higher.
Paradise operates four foreigner-only casinos in South Korea. In the capital city of Seoul it has Walkerhill, the Busan Casino is located in the city of Busan, Jeju Grand is located on Jeju Island and Paradise City is in Incheon.
Paradise City has been a beacon of hope for the company. While Paradise has had to watch as its profits dropped, Paradise City has been able to provide support. Despite the second-quarter losses incurred by the company, Paradise city saw a year-on-year revenue increase of 34.4% when it reported a gross take of $62.74 million. Profit was down because of expenses related to the launch of new amenities, but recovery is on its way.
Comments