Any hesitation over launching sports gambling in New York is going to be mitigated through a new partnership seeking to drum up interest in the activity. MSG Networks, a regional TV broadcasting service that is offered generally in the northeast part of the U.S., has announced that it will begin including programming from the Vegas Stats & Information Network (VSiN). The new programming will be offered five days a week and is an attempt to drum up support for sports gambling in New York after legislators there failed to advance a bill during the recent legislative session.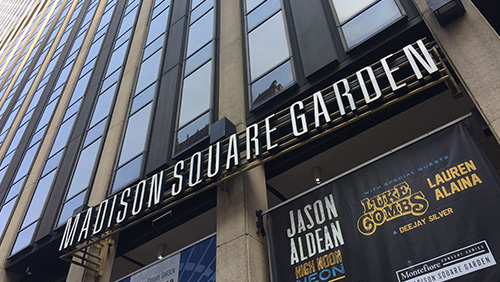 As of this past Monday, "Follow the Money," a VSiN sports gambling program, is being aired on MSG Networks each day from 1 PM to 4 PM (Eastern Time), Monday through Friday. The show is hosted by Paul Howard and Mitch Moss and covers a variety of sports gambling-related topics, including statistics, stories and sports commentaries. The show is available on both the MSG TV platform, as well as its MSG GO application for mobile devices.
VSiN was founded by Brian Musburger, the nephew of longtime sports newscaster Brent Musburger, Brian's father and documentary film producer Dave Berg. Brian also serves as the company's CEO and said in a press release, "MSG Networks is the best possible broadcast partner to reach sports fans and betting enthusiasts throughout the New York area. We're thrilled to continue to work with innovators like MSG Networks to deliver sports betting news and information to the growing number of Americans wagering on sports."
VSiN was created to fill a void where no dedicated sports gambling broadcasts were available nationwide. It is the first sports media firm to provide analysis and news to sports gambling fans and is backed by former NBA player Ryan Howard and his SeventySix Capital venture firm. Its content is now available on TV, SiriusXM Radio, Sling TV, VSiN.com, fuboTV and more.
Follow the Money is also available through other avenues in the country, including the New England Sports Network (NESN). That broadcaster is owned by the same group that owns the Boston Bruins and the Boston Red Sox.