A rash of tragic accidents has rocked the storied Santa Anita racetrack. A total of 21 horses have suffered life ending injuries since December 26, and now a decision has been made to suspend racing for the rest of this week, reports the Los Angeles Times.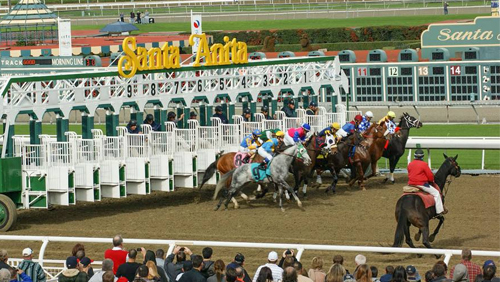 The suspension comes at a horrible time for race fans and horse owners. The San Felipe Handicap, a major race for 3-year-old horses in preparation for the Kentucky Derby, as well as the Santa Anita Handicap, a big race for older horses, were both scheduled for Saturday, March 9. They will now have to be postponed.
The latest fatality came on March 5, when a 4-year-old filly injured her leg during training on the main dirt track, and was the ninth death in training. Seven more have died after racing on that trace, and another five from racing on the turf track. In just over two months, Santa Anita has doubled its fatalities year over year when compared with 2018.
Experts are flabbergasted. The track was analyzed for irregularities last week by safety and racing surface expert Mick Peterson, but none were found. He's now going to test again, hoping to find something he might have missed.
Some are blaming recent stormy weather for the recent flurry of injuries. "Maintaining a dirt track with the amount of rain we've had, you have to seal it at just the right time and right manner," said Dr. Rick Arthur, the state's chief equine veterinarian.
Not a group to shy away from a chance for more publicity, PETA has shown up to protest the track. This is despite the fact that horse fatalities have decreased by 60% in the last 13 years.
If they can't re-open the track after his weekend, the San Felipe Handicap may have to be cancelled entirely. Overall though, despite the clear threat to Kentucky Derby training, trainers are happy that horse safety is being put first. "Without our athletes, without our most precious asset, there is no sport," trainer Bob Hess Jr. said.
This kind of controversy best be solved quickly though. With racing popularity generally on the decline, and competition arising from zany British Royalty, Santa Anita can't afford to have PETA at its doorstep for more than a week.