Martin Gaudreault-Remillard has won the CAD 1,650 buy-in WPTDeepStacks Montreal Main Event at the Playground Poker Club, for only his second ever live tournament score.
The World Poker Tour (WPT) has burned through another event, brushed the ashes into a golden urn, and thrown them into the parking lot at the Playground Poker Club in Montreal.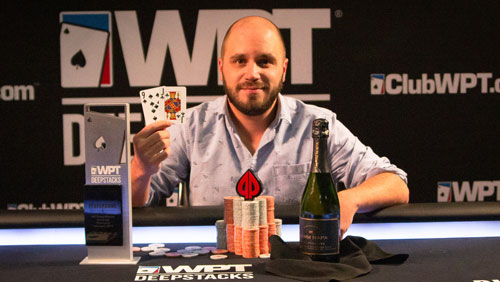 One thing I don't miss from my live reporting days is having to repeatedly hammer names like Martin Gaudreault-Remillard into my keyboard when they run deep, and you don't get much deeper than the #1 spot.
Gaudreault-Remillard has just taken down the CAD 1,650 buy-in WPTDeepStacks (WPTDS) Montreal Main Event, conquering a field of 686-entrants, to win the $182,790 first prize and a seat into the WPTDeepStacks Championships worth $3,000.
"I don't play too many tournaments, and just going out and binking one of the biggest ones I play is awesome," the man with the super long name told the WPT after his win.
After three starting flights, and a merged Day 2, the final day began with nine players in with a shout of championship glory, with the chip counts looking a little something like this.
Final Table Starting Stacks
Seat 1: Adam Lamers – 1,575,000
Seat 2: Karim-Olivier Kamal – 1,215,000
Seat 3: Julio Cacoilo – 3,980,000
Seat 4: Raymond Carter – 1,240,000
Seat 5: Leo Leclerc – 795,000
Seat 6: Daniel Le – 5,415,000
Seat 7: Johnson Phanyaseng – 3,680,000
Seat 8: Mitchell Dredge – 1,265,000
Seat 9: Martin Gaudreault-Remillard – 1,420,000
Our champion began life in the middle of a pack that didn't comprise of any notable card sharps except Karim Kamal who won the 1,231 partypoker CAD 1,100 No-Limit Hold'em MILLIONS Open in April 2018 for $165,285.
Gaudreault-Remillard told the WPT that he had a 'weird stack in a weird position', and bided his time while everyone around him seemed happy to knock each other out.
There were no hands of note involving Gaudreault-Remillard until with five remaining and blinds at 50k/100k/100k he doubled to 25 big blinds through Raymond Carter when all-in from the button holding 76cc versus QJdd after scoring a flush on the fourth street.
25 became 51 after Gaudreault-Remillard claimed his first scalp of the day when he moved all-in for 2.7m on a flop of AdKcTc4h holding AsQd, and his opponent Daniel Le called and hit the rail holding Ac7h for the inferior kicker.
Here were the three-handed chip counts:
1. Julio Cacoilo – 9,475,000
2. Martin Gaudreault-Remillard – 5,600,000
3. Raymond Carter – 5,550,000
Julio Cacoilo would take an 83 bb v 53 bb chip lead into a heads-up duel with Gaudreault-Remillard after eliminating Raymond Carter KQ>KJ, rivering a queen for good measure.
Heads-Up
The Tale of the Tape
Julio Cacoilo – 12,575,000 (83 bb)
Martin Gaudreault-Remillard – 8,000,000 (53 bb)
The pair had a combined total of two live cashes between them.
The only hand recorded on the WPT blog was the final hand. Julio Cacoilo raised to 400,000 (with blinds at 75k/150k/150k), and Martin Gaudreault-Remillard made the call. The dealer put the sopping wet JdTd9h onto the flop, and both players checked. The turn card was the 5h, Gaudreault-Remillard led for 500,000, Cacoilo jammed, and Gaudreault-Remillard called.
Cacoilo showed AdKc for ace high and a gutshot. Gaudreault-Remillard was ahead with Jc9s for a two-pair hand that transformed into a full house when the 9d made a splash on the river.
That, as they say, was that.
Final Table Results
1. Martin Gaudreault-Remillard – $182,790*
2. Julio Cacoilo – $128,210
3. Raymond Carter – $82,670
4. Daniel Le – $60,555
5. Leo Leclerc – $46,285
6. Karim-Olivier Kamal – $36,940
7. Mitchell Dredge – $40,595
8. Johnson Penyanseng – $24,350
9. Adam Lamers – $18,285
*Includes a $3,000 WPTDS Championship Package
WPT Champions Club member, Mike Leah finished 36th.
The WPTDeepStacks is currently in Brussels for the €1,200 buy-in Main Event Feb 7-10.​