FanDuel, the market leading sports betting operator in New Jersey, has chosen Fresh8 to power it's advertising in NJ and beyond.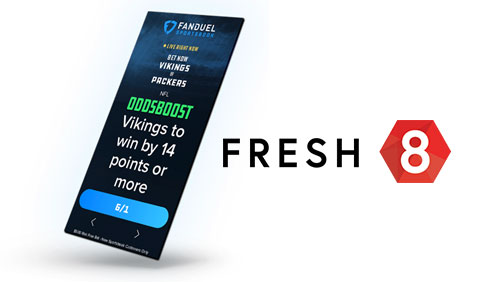 The multi-state and multi-platform deal will see FanDuel using Fresh8 to machine optimise their advertising inventory across programmatic, social, display, and even on the FanDuel site itself.
Fresh8 creates and delivers machine optimised marketing assets from an operator's wagering and CRM data. This optimises an operator's marketing spend through real time creative decisioning and minimises the time and overhead of producing, and distributing, digital marketing assets by hand.
To start, FanDuel will use this technology to build real time image and video based advertising across their programmatic channels. This will then be rolled out to their affiliate partners who can embed the technology with one line of code. By using the Fresh8 automated advertising technology, FanDuel will offer consumers real time wagering opportunities deep within content experiences.
The IGT integration for FanDuel sees Fresh8 now live on all the major US sports betting platform providers including Amelco, Kambi, SBTech, and SG Digital.
Aaron Dugan, Head of Online Marketing at FanDuel, commented "the Fresh8 self-build technology enables us to massively scale our advertising effectiveness. The real time nature of sports betting means manually built campaigns are no longer viable. Fresh8 helps us distribute our proposition in real time and at massive distribution scale. As soon as a bet is available in our platform, Fresh8 ensures it is also front and center in every display, affiliate, and social advert we have."
Andrew Sharland, CEO at Fresh8 Gaming, noted "We are excited to be working FanDuel, the early market leader in the USA who already have a fantastic brand recognised across the country. We are delighted FanDuel chose us to help them achieve advertising scale across channels as they expand state-by-state across the USA including helping them activate their tier 1 media company relationships."